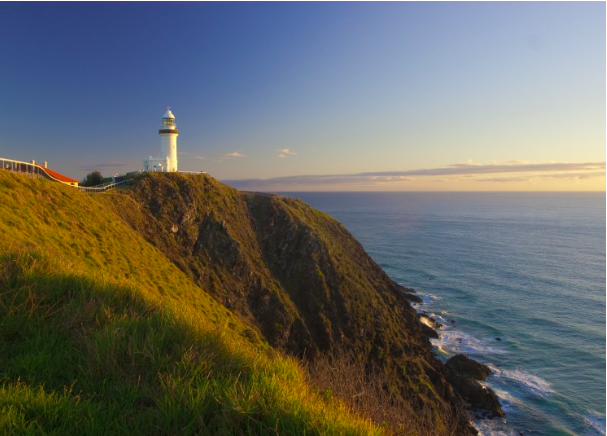 There isn't a day that goes by where I don't appreciate how lucky I am to live so close to such a beautiful part of the world. I'm not sure what it is, but there is a certain type of magic about Byron Bay that no matter how hard I try, I can never seem to translate into words. Every part of me wants to say that Byron Bay is my escape, but the truth is, I don't go to Byron to get lost, I go to Byron to feel grounded, Byron makes me feel whole. For those of you who haven't yet visited this part of the world, what I am trying to depict may sound a little woo-woo, heck maybe it is a little woo-woo, but know I'm not the only one who describes this part of the world in the same way. There really is something about this place and why, when I was asked to write a travel piece for the Virgin Australia Problogger competition, this is where I wanted to begin.
Part of what makes Byron Bay so wholesome and grounding is the food. What many people aren't aware of is that Byron Bay is home to some of the world's most passionate and sustainable foodies and as a result there exists some of the best cafe's and restaurants that this country has to offer. Today, I'm going to divulge my list of whole food favourites as well as some of the best kept local secrets. Ladies and gentleman, get your Instagram camera ready, foodie shots never looked so good… 😉

The Roadhouse – The Roadhouse is the top of my Byron Bay restaurant list and if you follow my Instagram account you will know that I spend A LOT of time here. To put it simply, the food is AMAZING. Their produce is sourced locally, the special's board is always changing (proving it's always fresh) and they opt for organic produce wherever possible. They stock a variety of cold-pressed juices, digestive tonics, healing elixirs and the infamous golden milk. They also understand the importance of fermented foods and are adamant that none of their dishes use refined sugar (desserts included). Gluten Free? They have got you covered – a slice of roast pumpkin replaces any refined piece of GF bread – YUM. If you stop by for lunch, you have to try the fish tacos and/or the nourishing bowl and for dinner, the specials board will have everyone covered. The Roady is also a great bar in the evening. If you visit, you're more than likely see me enjoying a meal or golden milk, if you do, come say hi! 🙂
The Farm – When it comes to sustainable food, the team at 'The Farm' not only talk the talk, but also walk the walk. The Farm itself incorporates a number of ventures, but the true hero (aside from the setting) is the onsite restaurant also known as 'Three Blue Ducks'. The boys from Sydney have based their menu on the food sourced from their own 100% spray and chemical free farm as well as incorporated some of the best produce that the region has to offer. As soon as you walk through the barn door, you won't want to leave. It's a great place to kick back and wind down. There is also a great playground for the kids that leaves even the big kids (myself included) a little envious.
Folk Cafe – If you've had a chance to view Folk's Instagram feed, you will know that this place isn't one to be missed. It's a tiny cafe that serves up the infamous Duke's coffee (from Melbourne), one of the best Organic Dandelion Chai Lattes I've ever had (on whichever milk you fancy), as well as a DELICIOUS range of wholesome breakfast and lunch options. Located near the caravan park on the way into town, it's easily missed so keep an eye out – food was perfection.
Naked Treaties – As soon as you walk through the door and turn to your right, you will witness first hand the LONGEST list of organic smoothies available to man kind. As you turn to your left, your eyes will then feast on an extensive range of mouthwatering raw desserts (of which they are famous for). The focus at Naked Treaties is on raw foods, however they do sell a range of hot drinks (organic hot chocolates, matcha lattes and turmeric chai – my idea of heaven). They are also committed to being 100% organic. Naked Treaties have also recently extended their lunch menu to include a range of raw options – raw pizza, raw falafel wraps, raw zucchini spaghetti bolognese and green veggie bowls. There are some seats available, but this is more of a grab and go kind of set-up.
Doma Cafe – When I say this is quite possibly the best Japanese I have ever had, I mean it. This Japanese restaurant is located in Federal (a short drive from Byron) and is the perfect spot for lunch. All produce is sourced from the local markets and prepared on site. This is fresh food at it's best. We love this place!
Bay Leaf – You can't go past Bay Leaf for coffee, they serve up a local Marvel Street blend regularly, which impresses even the toughest coffee critic. If the crowd gathering outside for breakfast or coffee on the run is anything to go by, you won't be disappointed. They are a favourite amongst locals and tourists alike.
Top Shop – Top Shop is known for their burgers (and hand cut sweet potato fries). All of the meat they use is free-range, grass-fed and eggs are organic. They make their own breads and pastries and have organic milk and almond milk on offer for coffee. Pick a gorgeous day and sit on the lawn amongst the Byron locals.
The Belle General – Jump on over to their Instagram account for a whole host of wholesome dishes that will leave you salivating. Located in Ballina, a short drive from Byron Bay, this is another place to add to the "list" of must visits.
Harvest Cafe – When you're looking to escape the Byron 'hipster' vibe, Harvest is the perfect place to visit. Think fresh and contemporary 'paddock to place' Australian cuisine with a touch of class. The team at Harvest source a lot of their ingredients from their own 5 acre organic farm, the rest is local produce of the highest quality.This restaurant is located in Newrybar (a short drive from Byron Bay).
Manna Haven – If I am going to be honest, Manna Haven doesn't look like much from the outside, but judging a book by it's cover will only mean that you miss out on a whole lot of good food here. Manna Haven is a vegetarian restaurant with an extensive menu that will leave you wondering why you ever questioned it in the first place. If that's not enough, the serving sizes are nothing short of generous. Tables out the front on the lawn are the perfect spot to sit on a sunny day. They also make an effort to source organic where possible (most of it from the local byron bay organic farmers market).
Some more tips from the locals:
Milk and Honey – This restaurant is located in Mullumbimby (about a 20 minute drive out of the Byron Bay town centre) and holds the reputation for some of the best pizza's in the area (some even say the world). I'm told their menu is extensive, featuring a whole lot of fresh and local produce sourced from the weekly farmers markets in the area. Last time I checked, they didn't offer gluten-free – something you might need to be aware of.
Traditional Thai – Known as the slightly more expensive Thai restaurant in the area, I am assured you won't be disappointed. Rumour has it that the head-chef used to work at Longrain. I haven't eaten at 'Traditional Thai' however, I have tried the food at Longrain – AMAZING – one of my favourite restaurants in Melbourne.
Tree House – I love spending a balmy evening under the trees at Treehouse. A great place for drinks.
St Elmo's – An intimate venue that makes you feel like you're somewhere in Europe. The menu focuses on Spanish tapas and share plates. They also house over 100 wines sourced from around the globe, with 15+ varieties available by the glass. They are regularly booked out, so make sure you plan ahead.
Phew! That's it. Tell me all about your favourite Byron Bay experiences in the comments below!