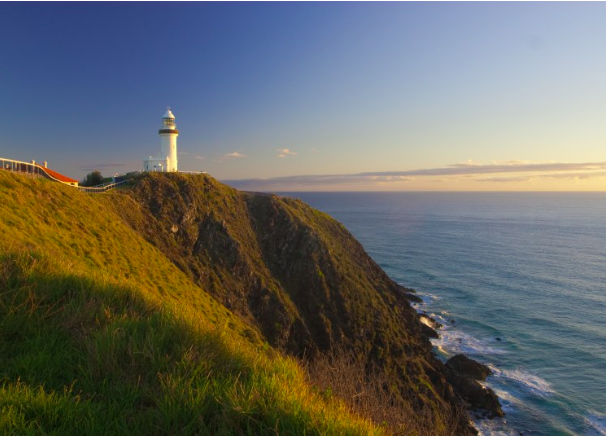 There isn't a day that goes by where I don't appreciate how lucky I am to live so close to such a beautiful part of the world. Yes, there are the beaches, the cliff walks, the coastal vibes and that quintessential small Australian town feel, but there's also the food – oh the food! Byron Bay is now home to some of the world's most passionate and sustainable foodies and as a result there exists some of the best cafe's and restaurants that this country has to offer. Today, I'm going to divulge my list of whole food favourites as well as some of the best kept local secrets. Ladies and gentleman, get your Instagram camera ready, foodie shots never looked so good… 😉

---
Where to stay… 
Before we jump into the foodie scene, let's talk accomodation. You're going to want to book somewhere in the middle of the town centre so you're walking distance to all of the local hotspots (no need for a designated driver each night), but quiet enough so you can kick back & relax without being bothered by the after dark crowd. Because the airport isn't close (about a 30 minute drive) & some of the towns best kept secrets lie in the surrounding hinterland, you're probably going to have a car, so you'll likely want a property with free parking. And because you're there to enjoy the gorgeous Byron Bay weather, you're probably going to want somewhere within walking distance to the beach. Whilst this might sound impossible, let me introduce you to Inala House Byron Bay.
This gorgeous 3 bedroom, 2 bathroom luxury accomodation ticks all of the above boxes AND more. Don't believe me? Jump on over to the website and see for yourself: Inala House Byron Bay. 
---
On the way into Byron Bay…
The Farm – LUNCH & DINNER – When it comes to sustainable food, the team at 'The Farm' not only talk the talk, but also walk the walk. The Farm itself incorporates a number of ventures, but the true hero (aside from the setting) is the onsite restaurant also known as 'Three Blue Ducks'. The boys from the Sydney 'Three Blue Ducks' venture have based their menu on the food sourced the grounds of "The Farm" itself, as well as incorporated some of the best produce that the region has to offer. My favourite is their lunch or dinner menu (dinner is Fri-Sun only), but if you stop by for breakfast, their coffee is to die for. If you're bringing small children, there is a great playground on site which will keep them entertained for hours as well as self-guided walking tours of the grounds which will introduce you to some of their most famous residence (piglets and cows alike). The team serve up Single Origin Coffee from Sydney. 
Barrio Bar & Eatery – BREAKFAST, LUNCH, DINNER – Located in the Industrial area just outside of the town centre, this new venture is sure to get people talking. Whilst I've not yet visited (it only opened on the 27th Dec), I'd definitely recommend stopping by. Open from 7am-5pm Mon-Wed and 7am-10pm Mon-Saturday. BYO.
Folk Cafe – BREAKFAST, LUNCH – If you've had a chance to view Folk's Instagram feed, you will know that this place isn't one to be missed. It's a tiny cafe that serves up the infamous Duke's coffee (from Melbourne), one of the best Organic Dandelion Chai Lattes I've ever had (on whichever milk you fancy), as well as a DELICIOUS range of wholesome breakfast and lunch options. Located near the caravan park on the way into town, it's easily missed so keep an eye out – food was perfection. The team serve up Dukes Coffee from Melbourne.  
Within Byron Bay Town…
Bay Leaf – BREAKFAST, LUNCH – You can't go past Bay Leaf. They are a favourite amongst locals and tourists alike which may mean waiting in line during busy periods, so get their early to avoid disappointment. The scrambled eggs special is my favourite alongside ALL of their lunch menu. Bay Leaf never disappoints. The team serve up the local bean, Marvell Street Coffee. 
Top Shop – BREAKFAST, LUNCH – Top Shop is known for their burgers (and hand cut sweet potato fries). All of the meat they use is free-range, grass-fed and eggs are organic. They make their own breads and pastries and have organic milk and almond milk on offer for coffee. Pick a gorgeous day and sit on the lawn amongst the Byron locals – especially during summer holidays because this place seems to be more of a local secret. Breakfast menu is quite limited, but if you're after a chia pudding and/or a egg and bacon roll, you'll love it. The team serve up Single Origin Coffee. 
Light Years – LUNCH, DINNER – My new favourite in the Byron Bay region. Fresh and light Vietnamese food that is perfect for the hot summer nights – menu is always changing but the rice paper rolls and the Bao is delicious. Cocktail list is also fun and a little adventurous – the spiked Kombucha or Gin Cooler are two of our favourites.  
Bang Bang Byron Bay – LUNCH, DINNER – Mouthwatering South-East Asian Cuisine in a stunning yet bustling setting. They're famous for their delicious pad thai, spicy curries and flavour packed, yet light and fresh salads. Would highly recommend. Wine list is great also! 
Tree House – LUNCH, DINNER – I love spending a balmy evening under the trees at Treehouse. A great place for drinks and pizza. The rest of the menu is fairly basic, but you can definitely make it work. NOTE: I personally try to avoid Tree House during the peak of the summer day only because breeze is limited and it can get quite warm. 
Rae's On Watego's – LUNCH, DINNER – One of the finer dining experiences in the Bay with a view of Watego's Beach.  The food is incredible (my go-to dining experience for fresh seafood) and cannot recommend them enough. Perfect spot for lunch. I'd recommend booking ahead.
The Mez Club – TAPAS, DRINKS – A little piece of Greek Islands located in the heart of Byron Bay – as soon as you walk through the door, you're transported somewhere else. Menu is a blend of both Morrocan and Greek and the perfect place to enjoy a light meal/tapas with friends. 
The Roadhouse – The Roadhouse used to be the top of my Byron Bay restaurant list however, they're currently undergoing some refurbishments and have not been able to offer their full menu. Hopefully they'll be back up and running soon – coffee, chia bowls and pastries are still on offer. 
Leaf & Grain – LUNCH – When you're chasing a healthy take-away option (my favourites are the salads) to take to the beach for lunch, the team at Leaf and Grain have you covered. Located next door to Bay-Leaf (a sister company), the small shop can easily be missed. Make sure you get in early to avoid disappointment – Leaf & Grain is very popular amongst the locals and as such, they sell out on a daily basis. Salads change on a daily basis according to what produce is on offer in the local area. They also do rolls and pastries. The team serve up the local bean, Marvell Street Coffee. 5% of their profits are given back to local charities. 
The Sunday Sustainable Bakery – BAKERY – Located across the road from Woolworths in the town centre, this little bakery is extremely popular amongst locals and visitors alike. Stop by for a coffee (the team serve Moonshine Coffee Roasters) and grab a loaf of organic bread for the morning. In winter, I love to stop by and purchase a $10 bowl of soup and crusty loaf of bread for lunch, whilst the rain pours outside – magic.
---
Just outside Byron Bay town, but worth the drive…
Doma Cafe Federal – When I say this is quite possibly the best Japanese I have ever had, I mean it. This Japanese restaurant is located in Federal (a short drive from Byron) and is the perfect spot for lunch. All produce is sourced from the local markets and prepared on site. This is fresh food at it's best. We love this place! 
Harvest Cafe – When you're looking to escape the Byron 'hipster' vibe, Harvest is the perfect place to visit. Think fresh and contemporary 'paddock to place' Australian cuisine with a touch of class. The team at Harvest source a lot of their ingredients from their own 5 acre organic farm, the rest is local produce of the highest quality.This restaurant is located in Newrybar (a short drive from Byron Bay). If you're after take away coffee and pastries, or some local jams, chutney or preserves, next door to the restaurant exists Harvest Deli. The team serve up All Press Coffee. If you're visiting Harvest, make sure you duck over the road to check out Newrybar Merchants – a gorgeous shop showcasing some of the regions best small businesses. 
Shelter Lennox Head – A beautiful beach-side venue located 15 minutes (drive) north of Byron Bay. The breakfast was lovely and whilst they had your stock standard menu for the traditionalists, they also added their own flare, i.e. mushrooms 3 ways on toast or smoked local fish with a semolina hash (both were amazing). They are also open for dinner 3 nights per week. I guess you could say it's somewhat fine dining feels blended with a relaxed sea-side manner. Can't wait to go back. 
The Belle General – Jump on over to their Instagram account for a whole host of wholesome dishes that will leave you salivating. Located in Ballina, this is the perfect place to visit on your way to/from the airport. 
Milk and Honey – This restaurant is located in Mullumbimby (about a 20 minute drive out of the Byron Bay town centre) and holds the reputation for some of the best pizza's in the area. I'm told their menu is extensive, featuring a whole lot of fresh and local produce sourced from the weekly farmers markets in the area. Last time I checked, they didn't offer gluten-free – something you might need to be aware of. 
---
Phew! That's it. Tell me all about your favourite Byron Bay experiences in the comments below!