Coconut Milk is a great alternative to rice or almond milk and a wonderful way to add nourishing, healthy fats to your diet. Unfortunately canned varieties of coconut milk are lined with BPA (you can read more on the health risks of this here) and aren't something we should be consuming on a regular basis (if ever) and whilst cartoned varieties are becoming increasingly available, they are quite expensive, can contain additives and sweeteners and in my opinion, just don't taste the same.
Fortunately, it is incredibly simple and extremely inexpensive to make your own organic coconut milk at home. You can whip up a batch in minutes and use this in your smoothies, curries, soups and desserts.
Print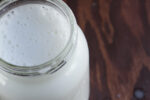 Make Your Own Coconut Milk
---
4 cups

/ 800g hot filtered water (not boiling, just hot)

2 cups

/ 200g of unsweetened shredded coconut
---
Instructions
Place the shredded coconut in the Thermomix or blender
If you are using a Thermomix, blend on speed 8 for 30 seconds, if you are using a blender, blend on high for around a minute; or until it is thick and creamy
Strain the mixture through a muslin cloth (or cheesecloth available from fabric stores for half the price), squeezing out all excess liquid.
Place in an airtight glass-jar in the refrigerator for 3-4 days. You might find that the coconut cream will separate from the coconut milk, this can be easily blended back through for a creamy milk, or scooped off the top for use in a number of recipes.