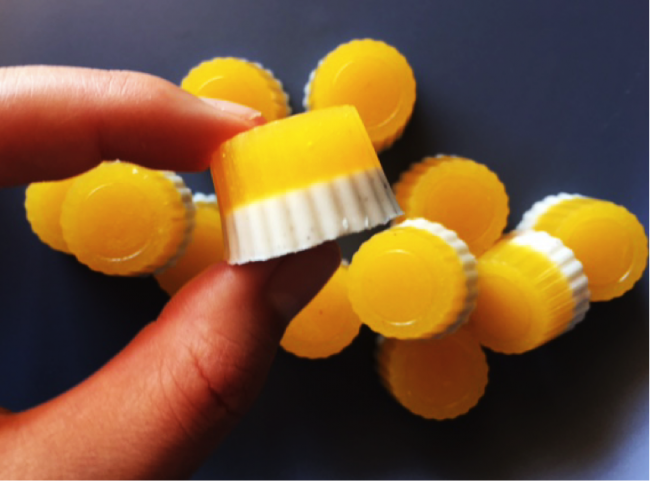 Gummies are a HUGE hit with my patients – HUGE, so I thought I'd share some new recipes. Today, it's Mango & Coconut Cream!
If you're new to this concept, you can read all about the Health Benefits of Gelatin – the main ingredient in my gummies here. If you like this idea, you might want to try out some other flavours here:
Ready to dive in?
BEFORE WE START – I personally prefer the Mango layer of this dish on it's own, it's light and fruity however, my sister and mum preferred this alternative, so consider trying both 😉
Print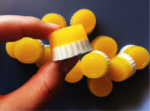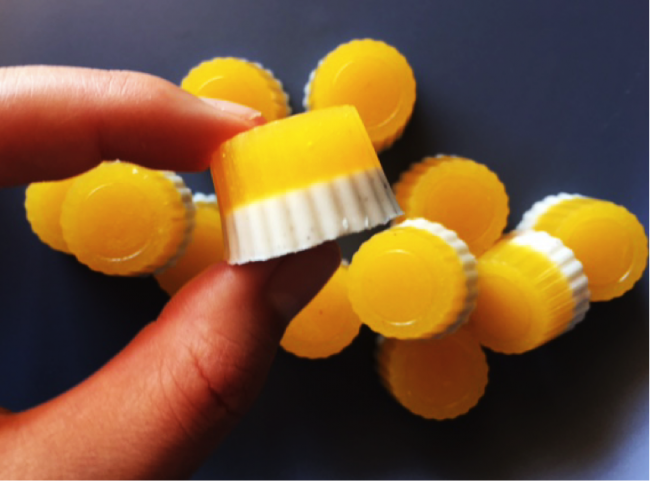 MANGO & COCONUT CREAM GUMMIES
---
MANGO LAYER 
1

mango (peeled and seed removed)

1/3 cup

lime juice ((approx.

2

–

3

limes, depending on how juicy they are, please use cup measurement to be exact))

1/3 cup

coconut water ((read all about Coconut Water here))

6 tbsp

. gelatin ((see NOTES below))
COCONUT LAYER
2/3 cup

full fat coconut milk

3 tbsp

gelatin

1 tbsp

maple syrup ((optional))

1 tbsp

vanilla ((optional))
---
Instructions
To make the mango layer, dissolve 6 tbsp. gelatin in 2/3 cup cold water. Let sit for approximately 3 minutes until it becomes gel like.
Place mango, lime juice and coconut water in a high speed blender and blend until smooth.
Transfer blended mango mixture to a small saucepan, over low heat. Add gelatin 'gel' and stir until completely dissolved, this should take approximately 3-4 minutes.
Remove from stove, transfer to moulds (only filling half of each mould) or a ceramic baking dish, refrigerate (2-3hrs) or freeze (10 mins) until set.
To make the coconut layer, dissolve 3 tbsp. gelatin in 1/3 cup cold water. Let sit for approximately 3 minutes until it becomes gel like.
Place coconut milk, maple (optional) and vanilla (optional) in a blender until smooth. Transfer to a small saucepan, over low heat. Stir through gelatin mixture until well combined.
Remove from stove, pouring on top of the mango layer, filling to the top. Refrigerate (2-3hrs) or freeze for approximately 10 mins until set.
If you use baking dish, cut Mango & Coconut Cream gummies into bite sized pieces before serving.
Notes
Because these are rich in amino acids, limit your consumption to 3 per day, gradually building up your tolerance IF required by your health practitioner.
As these gummies have a very similar consistency to "jelly" without the additives, preservatives and what not, warm temperatures will cause them to melt. Keep refrigerated for best consistency.
If you don't know where to source gelatin, one of the brands I recommend is 100% Australian owned company Nutra Organics. Their Natural Gelatin is sourced from 100% Australian pasture raised cattle (only one in Australia at the moment). They also have a starter pack (250g for $11.90) so you can experiment without having to make a large investment.