When it comes to beauty products, there is a product for everything, but it wasn't until I made the commitment to ditch the toxic products and switch to natural alternatives, that I realised that we can get by on very little.
Today, I share my quick and simple beauty routine, that is 100% chemical free. This is a full list of the products I personally have in my bathroom and use on a regular basis (no paid endorsements here).
---
Morning Routine
I like to workout in the morning, so it's straight into my workout gear and into the great outdoors. Whenever I am outside for extended periods of time, I use Eco Sport sunscreen.
With regards to deodorant, I use the Black Chicken Axilla Paste. You can read all about my natural deodorant reviews here.
---
Make-up
When I get home from my sweat sesh, I have a quick shower and depending on what I am doing for the day, will pop on a bit of make-up.
Usually it's the La Mav BB Crème. Or if I am after greater coverage at the moment, I am in love with a mix of the Evohe Omega 3.6.9 oil with some Evohe Loose Powder. I use the Ere Perez Pure Rice Powder- Bronze Tones and Ere Perez Mascara.
For my lips, I can't go past the Hurraw lip balm (cherry) for everyday use. I also use Hemp Organics Lipstick for a special occasion.
You can read more about my Natural Powder reviews here.
---
Make-up Removal
I love the La Mav Hydra Calm Cleansing Crème to cleanse my skin. I use this with an Enjo Cleansing Wipe (which I'm obsessed with, you just throw them in the wash to clean them, no waste). I don't use a toner regularly, but was talking to a girlfriend about how much I loved using Witch Hazel way back when (my grandma swears by it and has uses it everyday – she is now 89!), might give that another whirl. Witch Hazel can be found at your local health food store.
When it comes to moisturiser, I honestly believe drinking 2L of water a day is the best kind of moisturiser and hence, I don't use one regularly. When travelling, I can't go past the Evohe 3.6.9 oil OR the LaMav Moisturiser (I switch between varieties) when I need a lift.
When skin is tired, I like to use a pure organic rose hip oil like Eco Face.
---
Whole Body Moisturiser
If I'm dehydrated (especially after flying) I will use cold-pressed olive oil. My skin loves it and I know it has no chemicals in it. Some of my friends use coconut oil, but for me it leaves an oily residue.
I think that's it!
Like I said, quick and easy and really not that expensive – all of these products last me AGES.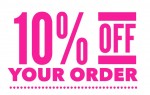 DISCOUNT OFFER: Nourished life has offered An Apple a Day followers 10% off! all you need to do is follow this link and enter the code word 'SHOP' to receive the discount.
What natural beauty products do you use? Did I skip your favourite?