Yesterday I discussed disposable coffee cups and the effects they are having on our environment and our health (you can read all about this here). Part of that discussion enabled me to talk about two possible solutions to the problem, re-usable coffee cups being one of them. But which one do you buy? Over the past few months, I've personally reviewed a number of the re-usable coffee cups on the market. Today, I list my top three favourites (pros and cons) to help take the guesswork out of it for you… Hope this helps!
---

KeepCup Glass (Limited Edition)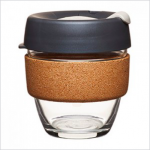 This cup is made using tempered glass. To avoid the cup being too hot to hold, there is a cork band that acts as insulation.
Pros:
It's cute! (it's a girl thing)
The cup is made of glass (less plastic overall)
It's quite durable (our glass cups are still in tact after 6mths, TOUCH WOOD)
Parts (like the cork band) can be replaced (thank goodness, see cons)
Lids are BPA and BPS free
Lids are 100% recyclable
If you want to avoid drinking your coffee through the plastic lid, it's easy to remove and drink from the glass itself.
Cons:
The cup as a whole is not suitable for the dishwasher given the cork band becomes weak when wet (hence the husband ruined his in less than 1 week, mine is still going strong). KeepCup have released a new glass version with a plastic band, this might solve that problem.
The lid is a little tricky to secure BUT in saying that, I haven't had any spills to date (touch wood).
It's slightly heavier than the original (plastic) version.
The tempered glass cup is not recyclable
I was a little disappointed with the "white" lid – it was more of a greyish white (insignificant I know, but again, a girl thing that others will understand).
Available Here RRP: $28.00
---

Cheeki Double Walled Travel Flask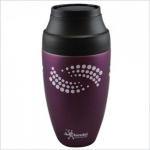 When they say leak proof, they mean it! Stainless steel interior with BPA free lids. Printed with non-toxic ink designs.
Pros:
Lid screws on, so it's easy to secure and again, no leaks.
Stainless steel cup (less plastics all round)
Extremely durable
Lid is BPA free
Cons:
Only three design/colours (another girl thing)
Only one size available
There is mention of the lid being BPS free
If you want to avoid drinking through the plastic lid the edges are a little sharp. Not really doable.
Available Here. RRP: $29.95
---

Cheeki Stainless Steel Coffee Cup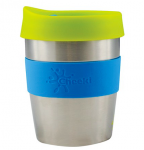 This coffee cup is stainless steel. They are dishwasher safe.
Pros:
Lightweight
Extremely durable
BPA free lid
Double-wall insulation keeps coffee hot for longer
The lid is screwed on, making it easy to secure
They are available in two sizes 8oz and 12 oz
Less expensive than the Keep Cup Glass
Cons:
They aren't recyclable at the end of their life.
Limited colour range available
There is no mention of the lid being BPS free
Sometimes the lid leaks, but not enough to deter me
If you want to avoid drinking through the plastic lid, being a screw top lid, it's not as easy to drink without the lid in tact.
Available from your local health food store. RRP: $16.95
---
If I've missed your favourite, please be aware that I only chose to review those cups that weren't entirely made of plastic.
As a side note, I didn't get the opportunity to review JOCO coffee cups. Whilst I can't comment on their durability or use, I can say that like a few of the cups listed above; the plastic lids aren't BPS free.
Do you have a re-usable coffee cup? Do you love it or hate it?
---