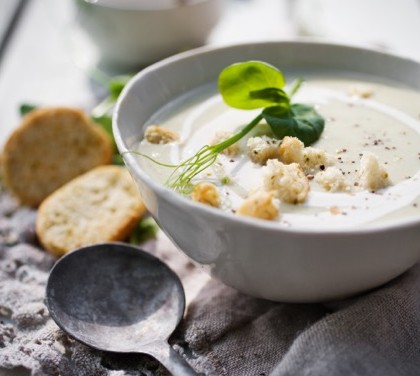 ---
Roasted Cauliflower & Turmeric Soup
---
Serves: 6
---
Ingredients:
2 heads of cauliflower, cut into florets
1-2 garlic cloves, minced
1 tbsp. macadamia oil
4 cups chicken stock
1/2-1 tsp. turmeric powder
2 cups full-fat coconut milk
Fresh parsley for garnishing
Sea salt, black pepper and olive oil to taste
Instructions:
Preheat your oven to 180C. Line a baking tray with baking paper.
In a large bowl, combine the cauliflower, garlic and macadamia oil
Spread the cauliflower mixture on a roasting pan.
Place the roasting pan in the oven and roast for 20 minutes.
Transfer the cauliflower to a large saucepan and add the chicken stock and turmeric. Bring to a boil over a medium-high heat.
Cover the saucepan. Lower the heat and let it simmer for 20 minutes.
Puree the soup using an immersion blender or a blender.
Stir in the coconut milk and season to taste with sea salt, freshly cracked black pepper and a drizzle of olive oil.