As I write up all of the information discussing the goodness found in only a small selection of seasonal favourites, it never ceases to amaze me how FREAKIN INCREDIBLE each and every one of the fruits or vegetables are! At the end of the post I sit there and wonder why we choose to eat anything but the goodness provided to us by the planet and when you finish reading through this list, I am sure you will feel the same. If you aren't feeling 100%, make sure your next shopping cart is full of these seasonal varieties for November and you will reap the rewards!
Today I have included the vegetables and fruits available during the months of November. If you are looking for a diet rich in cancer-fighting, anti-ageing, anti-inflammatory fruits and vegetables, look no further!
APRICOTS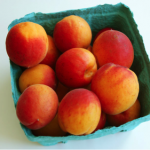 Apricots are those beautifully orange coloured summer fruits full of beta-carotene and fibre. They are also an excellent source of Vitamin A, Vitamin C, potassium, iron, zinc, calcium and manganese.
The high beta-carotene content of apricots makes them important for promoting good heart health and combined with Vitamin A, for excellent vision.
Commercially grown dried apricots may be treated with sulphur dioxide gas during processing. They may also be treated with sulphites to extend their shelf life. Skip the processed food and opt for the real fruit for maximum benefit.
Given that we eat the skin of the Apricot that is likely exposed to high pesticide exposure, I highly recommend always eating organic.
RASPBERRIES
Not only are raspberries delicious, but they are also a rich source of health promoting plant-derived nutrients, minerals, and vitamins that are essential for optimum health.
Raspberries have significantly high levels of phenolic flavonoid phytochemicals. Scientific studies show that these antioxidant compounds in these berries have potential health benefits against cancer, ageing, inflammation, and neuro-degenerative diseases.
Fresh raspberries are an excellent source of vitamin-C, which is also a powerful natural antioxidant. 100 g berries provide 26.2 mg or about 47% of DRI of vitamin C. Consumption of fruits rich in vitamin C helps the body develop resistance against infectious agents, counter inflammation, and scavenge harmful free radicals.
Raspberries contain a good amount of minerals like potassium, manganese, copper, iron and magnesium. Potassium is an important component of cell and body fluids that helps controlling heart rate and blood pressure.
Recent research on organic raspberries has now shown organic raspberries to be significantly higher in total antioxidant capacity than non-organic raspberries.
Look for brightly coloured raspberries with plump, blemish-free skin. Place on a plate lined with paper towel, cover with plastic wrap and store in the fridge. Eat as soon as possible. they taste best at room temperature.
Raspberries are one of my favourite berries – extremely delicious and low in fructose. In the upcoming recipe book I have use raspberries to top a delicious raw lemon cheesecake, YUM!
MANGOES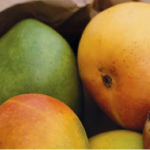 Mango fruit is an excellent source of Vitamin-A and flavonoids. 100 g of fresh fruit provides 765 mg or 25% of recommended daily levels of vitamin A. Together; these compounds are known to have antioxidant properties and are essential for vision. Vitamin A is also required for maintaining healthy mucus membranes and skin. Mangoes are also rich in Vitamin C.
Fresh mango is also a good source of potassium. 100g fruit provides 156mg of potassium. Potassium is an important component of cell and body fluids that helps controlling heart rate and blood pressure.
According to new research study, mango fruit has been found to protect against colon, breast, leukemia and prostate cancers.
The main variety of Mango grown in Australia is the Kensington Pride — a large orange mango, usually tinged with a red blush. Look for fruit that is well coloured and heavy for its size with a sweet aroma. Avoid mangoes with soft spots or bruises.
In the upcoming recipe collection you will find a recipe for a healthy and delicious Mango salad as well as one very tempting Mango curry, all made with the goodness of fresh mangoes!
SNOW PEAS 
As they consumed as a whole, snow peas have relatively high content of dietary fibre. Fibre in your diet helps reduce blood cholesterol levels, obesity, and constipation.
Fresh pods have 150% more amounts of vitamin C than in garden peas. 100 g provide 60 mg or 100% of daily-required levels of vitamin C.
Before eating snow peas, trim the ends and wash thoroughly. Given the whole vegetable would be exposed to pesticide spray, I highly recommend buying organic.
These sweet peas make a delicious addition to any stir-fry or salad. Naturally sweet, I often eat these straight from the source or use them with my favourite homemade dip like that of the organic hummus or guacamole. 
SPRING ONIONS
Sometimes labeled in supermarkets as shallots and also referred to as spring onions or scallions, these vegetables have edible hollow tube-like leaves and white bulbs. The white part of the onion has a stronger onion flavour.
Spring onions are rich in vitamins including Vitamin C, Vitamin B2 and thiamine. They also contain Vitamin A and Vitamin K. In addition, these are good sources of copper, phosphorous, magnesium, potassium, chromium, manganese and fiber. WOW!
Spring onions are good for cardiovascular health. They lower the oxidation of cholesterol and reduce the risk of coronary heart disease. Sulfur compounds in this vegetable help in reducing and controlling blood pressure levels.
Anti-bacterial properties in it help to fight against cold and flu as well as also providing relief from digestive discomforts.
The Quercetin in spring onions provides anti-inflammatory and anti-histamine benefits. It's a good vegetable for treating arthritis and asthma.
I love Spring Onions and pop them into almost everything. In the upcoming cookbook release you will find spring onions featured in a number of recipes including our quinoa 'fried rice' combo. YUM. 
POTATOES
Followers of low-carb diets give regular potatoes a bad rap. They are not exactly good for you when dropped into a deep fryer, but potatoes are packed with powerful nutrients and antioxidants—compounds that fight free radicals. The ORAC value (a measure of the total antioxidants in 100 grams) for a medium baked potato with skin is a healthy 1,680, while that of a baked sweet potato with skin is 766. Compare those with the values for carrots, either cooked (317) or raw (666).
A baked potato (with the skin left on) contains twice as much potassium as a banana. They contain 22% of your RDI of manganese (essential for good bone health). They are also a good source of Vitamin B6 where one medium baked potato contains 47% of your daily requirement. B6 is essential for more than 100 enzymic reactions that, among other roles, are critical in creating red blood cells and certain chemicals in our nervous system.
Whilst potatoes have a high GI, I highly recommend you pair them with good quality fats like that of coconut oil, macadamia oil or grass-fed organic butter to offset the insulin spike.
If you are on a budget and can't afford to buy all of your produce organically, check out the following posts: The Dirty Dozen and The Clean 15, for more information!