So many of us know we shouldn't buy products that contain Palm Oil, but do we really understand why?
What is Palm Oil?
Palm oil is a type of vegetable oil derived from the palm fruit, grown on the African oil-palm tree. The palm fruit yields both palm oil and palm kernel oil. Palm oil is extracted from the pulp of the fruit and is an edible oil used in food. Palm kernel oil is extracted from the seed of the fruit and is used in the manufacture of cosmetics.
Palm Oil is farmed due to its low cost and the promise of generating jobs.
Where does it come from?
Approximately 85% of the world's palm-oil exports are derived from the palm-oil plantations of Indonesia and Malaysia, on the islands of Sumatra and Borneo.
According to recent reports, the palm-oil plantations cover approximately 6.5 million hectares of Sumatra and Borneo alone. Palm oil plantations are the main driver for deforestation in Indonesia and Malaysia with an area of forest equal to 300 soccer fields is being destroyed every hour.
What is at risk?
The lowland forest that the palm oil industry favors for plantation conversion is the only remaining natural habitat of the orangutan.  At present, 80% of orangutan habitat has been altered or lost. As a result, during the past decade the orangutan population has decreased by approximately 50% in the wild.
The International Union for Conservation of Nature and Natural Resources (IUNC) has classified the Bornean orangutan as Endangered with approximately 55,000 left with 5,000 killed a year. The Sumatran orangutan is Critically Endangered with approximately 6,300 left and 1,000 being killed a year.
Whilst this is devastating, Orangutans are not just the only ones suffering:
Plantations are often forcibly established on land traditionally owned by indigenous peoples, and plantation development has repeatedly been associated with violent conflict.

In many plantations, workers have to contend with low wages and unfair living and working conditions.
Other animals that inhabit these areas that are also at risk of extinction include the Sumatran Tiger and Elephant.
The burning of forests to clear land for palm oil plantations is a major cause of air pollution in Southeast Asia. It releases CO2 into the atmosphere, which contributes to global warming. Research shows that 20% of all global carbon dioxide emissions from fossil fuels come from rainforest destruction.
Plans for expansion
Indonesia aims to almost double the 6.5m hectares under oil palm plantation in the next five to eight years and triple it by 2020. According to the United National Environment Program, it is estimated that within 15 years, 98% of the rainforests of Indonesia and Malaysia will be gone. 
Africa is the next prime target of palm oil development. If this happens, Africa will likely experience the same fate as Asia in regards to deforestation and primate destruction.
How can we help?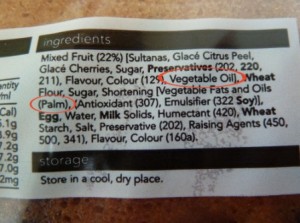 AVOID ALL PRODUCTS THAT CONTAIN PALM OIL!
Palm oil is an extremely popular vegetable oil amongst manufacturers. It is used in approximately 50% of packaged foods on Australian shelves. It has a longer shelf life than other vegetable oils, making it more appealing for food production. Palm oil is found in many food products including biscuits, chips, crackers and batters. It is also found in toothpaste, soap, shampoo and cosmetics.
There are currently no laws in Australia that force manufacturers to label Palm Oil as an ingredient in their products. As such, it is usually listed under Vegetable oil. Vegetable oils are extremely damaging to our health and as such, should be avoided at all costs.
If you are looking for sources of Palm Oil in your food, cosmetics and household cleaning products, you may have your work cut out for you. Currently in Australia there are over 170 names for Palm Oil and it's derivatives. Here is a small list of 30 likely sources of palm oil:
Vegetable Oil

Vegetable Fat

Sodium Laureth Sulfate (in almost everything that foams) ?

Sodium Lauryl Sulfate

Sodium Dodecyl Sulphate (SDS or NaDS)

Palm Kernel

Palm Oil Kernel

Palm Fruit Oil

Palmate

Palmitate

Palmolein

Glyceryl Stearate

Stearic Acid

Elaeis Guineensis

Palmitic Acid

Palm Stearine

Palmitoyl oxostearamide

Palmitoyl tetrapeptide-3

Steareth -2

Steareth -20

Sodium Kernelate

Sodium Palm Kernelate

Sodium Lauryl Lactylate/Sulphate

Sodium Lauryl Sulfoacetate

Hyrated Palm Glycerides

Sodium Isostearoyl Lactylaye

Cetyl Palmitate

Octyl Palmitate

Cetyl Alcohol

Palmityl Alchohol



Other ways you can help:
Write letters to keep the pressure on government and manufacturers.

Write to the manufacturers of your favourite foods. Find out if they are using palm oil and, if so, why.

This Easter or Christmas why not adopt an Orangutan orphan. A standard adoption costs $110pa and will help cover the food, medical and veterinarian costs as well as schooling and shelter for an orphaned Organutan like these two: 

 
You can find out more about adoption here.
For a look at the real cost of palm oil, please follow this link.
WARNING: THE  IMAGES FOUND BY FOLLOWING THIS LINK MAY DISTURB SOME READERS.