One of my favourite take-aways from Argentina (aside from the wine and the steak), was Chimchurri. Chimchurri is a herbed "sauce" the Argentinians use to spice up meat or grilled vegetable dishes.
---
HEALTH BENEFITS
PARSLEY
Research suggests that parsley may act as a free radical scavenger, anti diabetic, antibacterial, anti fungal food source. Parsley has also been used to help regulate bowel movements and decrease bloating. In terms of nutrient content, 1/2 cup chopped parsley contains approximately:
Vitamin K: 496mg (554% RDI)

Vitamin C: 40mg (54% RDI)

Vitamin A: 128mg (15% RDI)

Folate: 48mg (12% RDI)

Iron: 92mg (10% RDI)…
That's a whole lot of punch for one simple herb!
CORIANDER (CILANTRO)
In terms of health benefits, coriander has been found to accelerate the removal of heavy metals from the body (1, 2). Heavy metals have been linked to heart disease, HORMONAL IMBALANCES, neurological conditions and infertility. Coriander also contains a wide range of antioxidants, helping us fight free radical activity. One study has found that coriander extract outperformed valium (diazepam) in the management of anxiety in mice! NICE!
Coriander has been used throughout the world for thousands of years to settle nausea, prevent gas and bloating, relieve indigestion and heartburn.
In terms of nutrient profile, 1/2 cup chopped coriander contains approximately:
Vitamin A: 270 IU (10% RDI)

Vitamin K: 12.4 mcg (32% RDI)

Folate: 2.5 mcg (2% RDI)

Potassium: 20.8 mg (2%)
AND this is even before we've started talking about the nutrient profile of your main meal!
---
HOW DO WE USE IT?
Chimchurri makes the perfect addition to any BBQ or grilled meal. I personally love adding it to my steak and/or grilled vegetables for a flavour kick 🙂
Print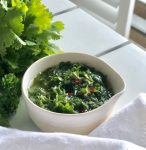 Chimchurri Recipe
---
1 cup

firmly packed continental parsley leaves, chopped

1 cup

firmly packed fresh coriander sprigs, chopped

1

small garlic clove (optional)

125

ml extra virgin olive oil

1.5

tbsp. red wine vinegar

1

fresh red chilli, chopped
---
Instructions
Combine all ingredients in a food processor and process until combined.

Drizzle over steak or roast vegetables to serve.
---