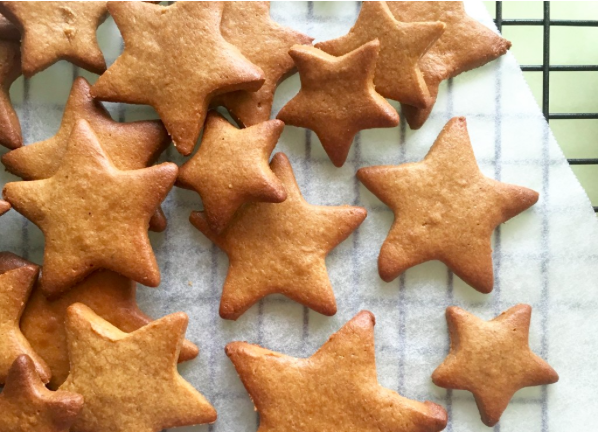 I've tried so many different variations of gluten free gingerbread biscuits and got incredibly frustrated when they turned out either crumbly or flavourless; oh and don't even get me started on making your own gluten free flour mix (who knew so many starches existed?), so I set out to make my own.
I soon discovered that the key to these Gingerbread recipe is the Blackstrap Molasses. Blackstrap Molasses is the most nutrient dense of all molasses varieties and just 2 tbsp. contains a wide variety of essential nutrients:
13.2% of our RDI of iron
11.7% of our RDI of calcium
7.3% of our RDI of magnesium
18% of our RDI of manganese
9.7% of our RDI of potassium
5% of our RDI of vitamin B6
3.4% of our RDI of selenium
Pretty special no? It also gives the cookies a caramelised flavour… delicious!
Print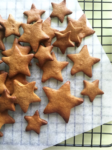 Gluten Free Gingerbread Biscuits
---
2 ½ cups

almond meal

1 tsp

. ground cinnamon

1 tsp

. ground ginger

½ tsp

. nutmeg

40 g

blackstrap molasses

50 g

cold pressed organic coconut oil

40 g

maple syrup or rice malt syrup

1 tsp

. vanilla bean powder

½ tsp

. gluten and aluminum free baking powder

2

cm fresh ginger

1

egg white
---
Instructions
Place all ingredients in a Thermomix or food processor and process until combined.
Remove from the food processor and using a rolling pin, flatten between two sheets of baking paper.
Place in the freezer for 20 minutes or until mixture firms.
Cut into shapes and bake at 160C for 15-20 minutes, or until golden. I like to pull them out of the oven just before I think they're ready to keep them moist.
Dress as you wish and serve once cooled.
Notes
Cooking time will vary depending on the shape and size you opt to cut them into. My mini stars were ready in 10-15mins, whereas the larger stars took a little longer.
I purchased my cookie cutters from one of those cheap bric a brac stores. Their performance far outweighed that of my expensive aluminium cookie cutters and they came in a pack of 5 for $2.50!
Category:

Dessert

Cuisine:

Dairy Free, Gluten Free