These delicious mint chocolate chip bliss balls are made using only real food ingredients. Not only do they contain the nourishing fats of coconut oil or magnesium rich cacao, they are also sweetened with the goodness of fresh organic dates. They are a wonderful treat for guests (no one will ever believe you when you tell them they are good for you), and the perfect snack for when you are traveling or on the run.
Print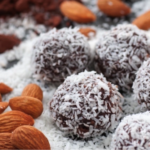 Raw Mint Choc Chip Bliss Balls
---
250 g

(

2 cups

) of Cashews

20 g

(

2

heaped tbsp) of cacao

50 g

(

2

generous tbsp) of Coconut Oil (I use Loving Earth)

7

fresh organic dates (pitted*)

1

handful of Changing Habits Cacao Wafers

3

drops of peppermint oil

1 cup

desiccated coconut
---
Instructions
Add cashews, cacao, coconut oil and organic dates to a food processor or thermomix. Process for around 15 seconds, or until the mixture is well combined, the mixture should stick together without breaking apart. If the mixture is too wet, add more nuts, if the mixture is too dry, add more coconut oil.
Add cacao wafers and peppermint oil to the mixture. Pulse for 10 seconds. You want the cacao wafers to add a little crunch to the balls; so don't process them too much.
Using your hands, roll the mixture into bite-sized balls and set aside.
Pour desiccated coconut on a large plate or flat surface and roll each ball in the mixture ensuring it is coated well
Place the coconut-covered balls in the freezer for approximately 15 minutes. This will set the coconut oil.
These delicious balls store in the fridge or freezer. These are perfect as a kitchen activity for children. Feel free to substitute cashews for other varieties of nuts. I often alternate between Walnuts and Cashews just to change things up.
Notes:

Organic fresh dates always trump conventional dates on flavour and consistency. Fresh dates can be found in the refrigerated section of your supermarket or local organic supplier.
Because we are using wholefood ingredients, the consistency of the mixture may vary from batch to batch. As a general rule of thumb, if the mixture is not sticking together well, add some more coconut oil. If the mixture is too runny, add some more nuts to the mix, simple as that!
Changing Habits Cacao wafers add the delicious 'choc chip crunch' to this mix. Like all Changing Habits products, these cacao wafers are rich in vital nutrition and minimally processed. Essentially, this particular brand of wafers are the original cacao bean before the separation into cacao butter and cacao powder, there is nothing added. You can buy them here. 
For more information about the other products I have recommended, just follow the links below:
Coconut Oil: What you need to know.