For those of you who have tried to use a natural deodorant, you'll agree that that's easier said than done – a lot of them don't work. So, in a bid to preserve the wellbeing of our friends and family; I to set out to create my very own 'natural deodorant review'. I tested 11 deodorants in total, 2 of which I would consider to be my top picks (yes, I'm that picky).
Before I jump in, I want to let you know that I used the EWG Skin Deep website to rate these products and I have shared their results below. This is a fantastic resource for everyone trying to understand what's really in their beauty products and what effects it may be having on your health.
---
#1 Black Chicken Axilla Deodorant Paste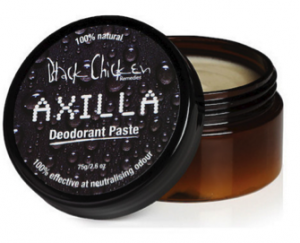 This is the best natural deodorant on the market. I have to admit that I was a bit hesitant; but once you get over the fact that you have to apply a paste to your underarms (seriously, it's nowhere near as bad as you might think), you're good to go. Lasts all day without re-application. Even the husband loves it.
NOTE: This is the ONLY one I recommend to my patients during their transition off store-bought varieties to more natural options. You will sweat, that's part of the detox reaction, but you won't smell 🙂 Trust me!
Available from Black Chicken directly. 
RRP: $18.50
---
#2 Moogoo Fresh Cream Deodorant 
I was invited by the team at MooGoo to trial their deodorant over the course of 30 days and I was honestly, blown away. For all those looking for more of a 'traditional' roll-on, this one is for you. Ranking 1/10 on the EWG Skin Deep website (meaning very low hazard), this product is free from aluminium, parabens and all other nasties. It's also a lot cheaper than all of the other natural deodorant brands, which is definitely a plus!
You can buy it from all good health food stores or pharmacies. 
I'd personally use this one after you've finished your detox on the Black Chicken above 🙂
RRP $8.95.
---
What's your favourite natural deodorant?