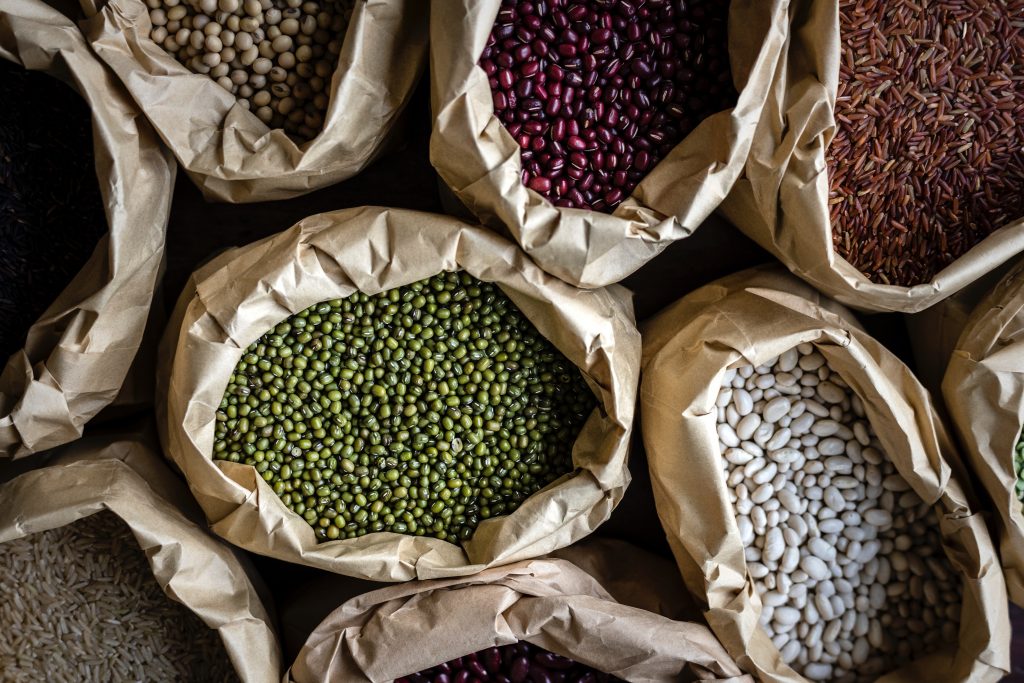 Should we soak legumes? Lentils and legumes are considered an important source of nutrients. They contain a number of nutrients including iron, magnesium, potassium and more however, these minerals may be at risk of poor absorption should we prepare legumes incorrectly. 
One of the biggest issues surrounding beans and legumes is that they naturally contain what we call anti-nutrient factors, such as 'trypsin enzyme inhibitors' and a relatively high 'phytate content'.
---
WHAT ARE PHYTATES?
Nuts, seeds, beans, legumes and grains store the mineral phosphorus as phytic acid. When phytic acid is bound to a mineral in the seed, it's known as phytate.
The main concern around phytates is that they can bind to certain dietary minerals like that of iron, zinc, manganese and calcium and slow their absorption in the gastro-intestinal tract (1, 2). This means less nutrients available for us. Whilst this might not be a huge issue for those eating a well balanced diet, for those who are relying heavily on a diet of legumes, nuts and grains, this may become an issue over time.
---
ARE THERE HEALTH BENEFITS OF PHYTIC ACID?
Phytic acid is a good example of a nutrient that is both good and bad, depending on the circumstances. Phytic acid acts as an antioxidant and may also be protective against kidney stones (3) and colorectal cancer (4).
SIDE NOTE: Whilst these studies are positive, I question whether this is related to diets high in plant based fibre and associated nutrients, rather than the phytic acid itself? Food for thought.
---
SHOULD I BE CONCERNED ABOUT PHYTIC ACID? 
Whilst phytic acid is not a health concern for those who follow a diverse and balanced diet, those at risk of an iron or zinc deficiency should aim to switch things up (include a wider range of food groups) as well as reduce the phytate content of their foods at main meals. This may be especially important for vegetarians and vegans (5, 6).
---
CAN WE REDUCE THE PHYTATE CONTENT? 
Yes, there are several traditional methods used to reduce the phytate levels of beans, nuts and legumes. These are:
Soaking: Soaking beans, legumes and grains over night has been shown to reduce their phytate content. One study showed 8 hours of soaking grains reduce phytate content by 87% (7).
Sprouting: The sprouting of seeds, grains and legumes, also known as germination, causes phytate degradation (8, 9).
---
ARE THERE ANY OTHER BENEFITS OF SOAKING YOUR LEGUMES? 
Yes, lentils are also easier to digest when soaked and sprouted, so if you notice you're feeling bloated and producing excess gas when eating legumes, you may like to try soaking your legumes to see if it makes a difference.
Lentils also contain lectins, which can also disturb digestion and cause problems for some people like irritable bowel syndrome (IBS). In moderate amounts, these shouldn't be an issue, but when someone has compromised digestion already, consumes large portions of lentils they might start to experience some digestive discomfort and nutrient deficiencies.
---
WHAT ABOUT CANNED? 
Lentils are very easy to cook from scratch when you purchase them dried, but you can always buy them pre-cooked and canned. However, check to make sure the can hasn't been made with BPA.