It's hard to believe that one year ago, we were celebrating our nuptials and close to 8 years ago, we met for the very first time. Time has gone so incredibly fast! As promised (though incredibly late, my apologies for the delay!), some images from the day and some details as to why it was so special. To all those who helped bring the day together, and all those who came and shared the day with us, we still are eternally grateful. It was the most perfect day, and so very 'us', we couldn't have asked for more.
Our goal 
To create a day that celebrated 'us' in every way, shape and form. We love to laugh, we love to celebrate with good food and we love to be around our family and friends, so we set out with every intention of creating a day that not only celebrated our love for one another, but encompassed everything we were about. We weren't traditional in any way, shape or form, so that gave us the freedom to plan the day exactly as we wanted and it worked out perfectly.
What we did 
To escape the wedding madness that had consumed a number of my friends, we intended to elope. Before too long, we soon realised that we wanted to share our special day with our family and friends, so instead of telling everyone we changed our minds, we stuck to the original plans and told everyone we were coming home from our Italy vacation to celebrate. On the day, we surprised everyone with a small ceremony before we kicked off the party as planned. We loved that our friends were authentically themselves (no wedding attire, one of our friends even in thongs); it made our day knowing how happy and comfortable they were (and ready to celebrate). Doing this, also took all of the pressure off us to tick all the wedding boxes. We chose a festival style wedding, with food stalls a caravan bar, a variety of seating options, a raw dessert bar all under the fairy lights, it was perfect.
---
Hair & Make-Up 
Words cannot describe how lucky I was to find Georga Reedy from Avia Beauty. Wearing natural, chemical free make-up on my wedding day was so important to me and Georga did an incredible job. Not only is she a talented make-up artist, she's also such a gorgeous person. I couldn't recommend her services enough.
---
The Location 
We were so incredibly blessed to have our wedding at our friends property in the Currumbin Valley, QLD. We were surrounded by the most beautiful gardens, flowering Jacaranda's and the Currumbin Creek running through the grounds. Their property is absolutely stunning and their hospitality was second to none. We are still so grateful.
---
Our Photographer
The incredibly talented Ange Coote photographed our wedding and we honestly, couldn't have asked for more. Ange and her partner Jacob are two very talented people, who managed to capture every moment of our special day so beautifully. Ange's her photos were second to none and we are still so grateful for her having made the trip over from Perth.
---
Our Videographer 
My talented cousin Todd Delfs from The Wedding Tape did our Wedding Video, we loved it.
---
The Dress
Having done my fair share of bridal shoots over the years, when it came to shopping for my own dress, nothing really felt like me. I tried a few stores, but with family and friends spread out around the country, I opted for a dress that I had loved for some time and made a few tweaks. The dress was from Aje.
---
Our Celebrant 
Keeping our wedding a secret from our friends and family was incredibly difficult, but Nicole Evans our beautiful celebrant made it all the more easier. Nicole's ceremony was incredible, so refreshing, we laughed alongside our guests and we shed a few tears, it was so heartfelt and meant the world to us. To this day, people still talk about how beautiful our ceremony was. Nicole quite honestly love's love and it shines through in the way she presents, we were so lucky to have her.
---
Wedding Stylist 
The girls from The Collector and Co were stand out performers on the day (and in the lead-up). There was no stone left unturned, nothing too much trouble and the end result was more than we could have ever of hoped for. To this day, I don't know where I'd be without them.
I have to mention my family here also, they did such an amazing job helping me pull together some signage (dad), my sister for using her artistic edge and painting them beautifully and my mum for washing umpteen glass jars a few days out. What would I have done without you 🙂
---
Our theme (& Our food)
As you can imagine, we are all about food and given that we had been to so many weddings where our dietary needs weren't exactly met by the catering, this was incredibly important to us. We wanted people to be able to choose what they wanted to eat (and go back for seconds and thirds if required). To do this successfully, we decided on a festival style set up, where we had food being served by Pop Taco (now Goodness Gracias), the incredible team from Olive and Luca (couldn't have asked for better service), and the team from Eat Drink Catering. We incorporated authentic Mexican, Organic wood fired pizza and an asian inspired rice noodle boxes into our menu. We decided on raw desserts, by none other than the gorgeous girls at Blendlove and coffee was provided by the team from Blackboard.
When it came to drinks, we knew we wanted a wedding with spunk and what better way to do it than with the amazing team from Mr Jenkins Caravan Bar. They served up our fresh coconuts & cold pressed juices without any problems; they were more than happy to educate our guests on the organic beer and wine available, and our organic soft-drink from Karma Cola (no nasties here). I know I am saying this a lot, but they really were incredible (and took care of everything), I couldn't recommend their services enough.
---
Flowers 
For those of you who live in Queensland, you'll know that November can be incredibly humid. I always envisioned having white flowers on my wedding day, but I knew this wasn't going to be a viable option given the climate, so I opted for some gorgeous Australian natives from the Brisbane Flower Market (we spent less than $300 total on flowers). We took what was in season and Mum, Kylie (one of our hosts), myself and the team from The Collector and Co, popped them in vases the night before. Because they were natives, they lasted (even a few extra days) and I was so grateful. My bouquet was whisked together by Kylie, the night before.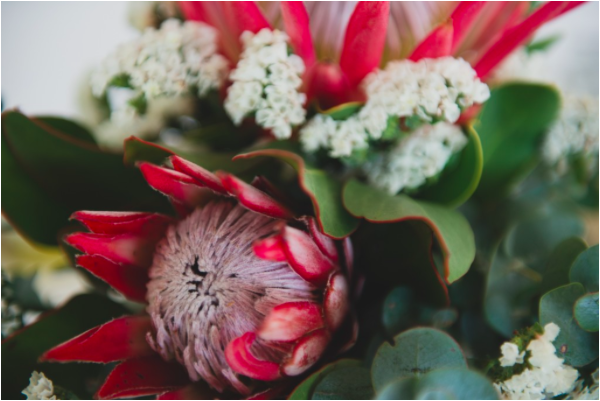 ---
Our DJ 
We enlisted the help of a good friend and talented DJ Matty Burgess (who even played Taylor Swift twice for me on the night – aren't I lucky?). Matty doesn't usually do weddings, but when we asked him, he said he'd loved to. It was amazing knowing we could leave something so important, in some very capable hands. We had an absolute ball on the dance floor (and no one wanted to leave when the buses arrived to take everyone home) and none of it wouldn't have been possible without him.
---
Our Highlights
I know this sounds cliche, but all of it! I wish I could do it over and over and over again. My advice for bride's to be, don't lose sight of the bigger picture, slow down, take in every moment; it honestly goes so fast and when it's all over, it feels like a dream that you relive in your mind again and again.