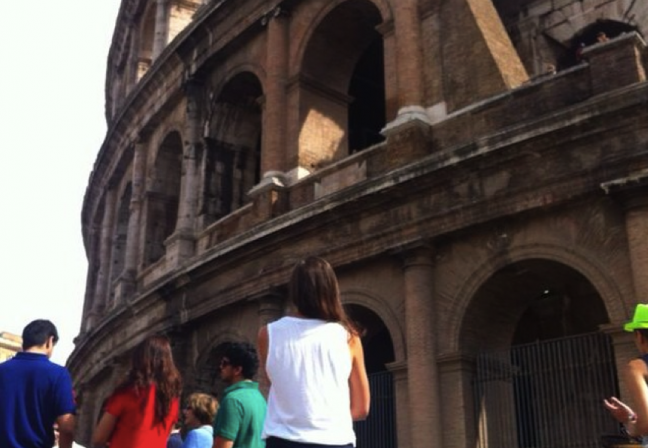 We have recently returned home from what was an incredible trip throughout Italy, you know one of those trips that leaves a real warmth in your belly and a smile on your face when you reminisce? Well, we had one of those trips, it was amazing from start to finish and after sharing a few snippets on social media, I've decided to share all the information you were asking for in a single post (it's a long one). Perhaps you can use this information to create one of your own heart warming adventures some time soon? If you do, I can guarantee it won't be anything short of amazing.
Before you begin, a bit about my eating preferences. At home, I like to avoid any type of diet "labeling". I've been there, done that and realised it serves no-one. Now, I eat to nourish my body and that can change from day to day, season to season, during periods of high stress or down-time. The one thing that remains consistent is that whenever I eat, I eat real foods: loads of fresh vegetables, quality proteins, fruits and good fats. I tend to follow a gluten free, dairy free and refined sugar free lifestyle 98% of the time, which is why I call it 'paleo-ish' as it seems to be the easiest way for other people to identify. However, something changed when I was away, whilst I mostly maintained my gluten-free choices (see my piece about San Martino), I can confess that I fell in love with Italian cheese… "ERRRMAGAWD, HOLY MOLY, WOW". At home I struggle with dairy in all of its forms, it just doesn't agree with me, but Italian cheese was different. Not once did I experience any forms of intolerance and so I allowed myself to indulge in the good stuff… 'When in Rome' right? 🙂 By eating a little cheese every now and then (ok, I'll admit it, more like every day), I was able to survive and remain satieted without my usual avocados and coconut oil, all whilst enjoying a little slice of delicious Italian heaven.

I know what you're thinking eating paleo in Italy = deprivation, but I can assure you we were anything but. During our trip we were overwhelmed by the abundance of fresh fish, local and seasonal fruit and vegetables, authentic cured meats, olives and local barrel cheeses. We sampled the incredible flavors of the various regions, we ate until our hearts content, had some of the best dishes I have EVER tasted and not once, did I ever feel like I missed out. I stayed paleo-ish (more on that later) and felt a million dollars each and every day, all without the extra holiday kilograms we associate with traveling abroad. How? It was a lot easier than you think. Below I have listed all of my recommendations, including accommodation, some spectacular hikes and whole foodie recommendations. If I've missed anything, be sure to let me know, I'll be going back ASAP.
---
Lake Como

Where we stayed
We chose to stay in a villa located in Lezzeno, a small village located just outside one of the main tourist centres, Bellagio. It was quiet, stunningly beautiful and only a quick 5 minute drive into the main tourist hub. We found our villa on Air BnB. It was perfect, provided us with a kitchen and a glorious view of the lake each and every morning.
Where we ate
Worth a mention was one of our most delicious lunches we had all trip. Whilst exploring Mennagio, we were lucky enough to find a traditional delicatessen that stocked a number of delicious fresh and local Italian products. We loaded up (for next to nothing) and enjoyed a very Italian lunch of incredible cheeses, cured meats, fresh olives and grilled vegetables on a nearby park bench overlooking the water. It was amazing.
For dinner, I would happily recommend this family run restaurant. The menu is extensive and the fish is caught daily. They also have a number of vegetable sides to choose from. The prices are incredibly competitive and the service is excellent. For those looking for a pasta dish, we noticed hand-made organic spelt pasta on the menu.
Highlights
We were blown away by the views that were presented along the 'Greenway del Lago di Como" (picture above) walking 'trail' (some parts road, some parts trail, other parts cobbled footpath). Make sure you take some water with you.
The gardens of Villa Del Balbianello (where a scene from a recent Daniel Craig James Bond was shot) were also stunning and definitely worth a look.
---
Cinque Terre
Where we stayed
We stayed in the first of the five villages of Cinque Terre called Monterosso. Our initial accommodation was a bit of a dive (the photos on Air BnB were nowhere near a true representation of the actual apartment), so we ended up hotel hopping (nothing was available for the full 3 nights we stayed there). We loved the village of Monterosso and would recommend it to anyone. Not only is it the best place to start the Cinque Terre hike, the 'Old Town' also provides great atmosphere and dinner dining options.
Where we ate
La Cantina Del PescatoreFor coffee, La Cantina Del Pescatore was my partner's local favourite – he loved it there. It's also a local providore store and wine bar – their pesto was also out of this world amazing.

Da Eraldo TigelleDinner at Da Eraldo Tigelle was hands down one of my favorites throughout the whole trip. This hidden gem can be found in old town Monterosso. My best advice is to get here early. This place served the BEST antipasto platter I have ever seen, full of fresh fruits, cured meats, grilled vegetables, delicious pesto, local cheeses and the welcomed organic greens. Judging from all the ooo-ing and ahh-ing coming from all the other tables, their other menu items must have been just as good.
Across the town square was Enoteca da Eliseo, where we were told it was 'the place' to start and end your evening, enjoying a coffee or glass of local organic wine, whilst you kicked back and people watched within the busy square, it was very popular.
Highlights
On route to Cinque Terra we stopped at Portofino for the day. This village is STUNNING and definitely worth a visit if you have time. We had a wine and complimentary traditional Italian tapas at Winterose Wine Bar, a wonderful place to stop and watch the world go by.
Hiking Cinque Terre (or the path that connects the 5 villages) is a MUST. Wear your walking shoes and comfortable gym clothing because you are going to get sweaty. It's a tough (but spectacular) walk, so take a small backpack, some water and your camera. We started the walk earlier on in the morning and it was great as they track can get quite busy throughout the day. Due to torrential rain and severe flooding back in 2011, the path connecting the final two villages with the rest of the track was closed during our visit. As such we mustered the strength to walk the first three villages and back again. If you do start the walk in Monterosso, we picked up a freshly squeezed juice (you can choose virtually any combination) and a delicious salad (pictured) from 'The Lunchbox' in Vernazza (the second village). We popped this salad into our backpack and enjoyed this an hour later at the look out in Corniglia. If you decided to walk on through Vernazza, there are plenty of lunch places in Corniglia to stop and eat, but these salads were definitely worth a mention and a wonderful way to take in the view at the final stop.
---
Tuscany
When I say we stayed in Tuscany, what I actually mean is that we stayed just outside of a town called Montepulciano in Tuscany. Tuscany is a state in Italy (like QLD or NSW in Australia – the things you learn whilst traveling!). It was a gorgeous little village with lots of life (especially on market day) and would happily recommend it to any couple who would enjoy a little bit of village life coupled with some time to kick back and relax in the countryside.
Where we stayed
Fattoria San Martino
We stayed at a gorgeous organic bed and breakfast called Fattoria San Martino where they specialize in organic, fresh, seasonal and local vegetarian produce. The rooms of this B&B were stunning, spacious and had been photographed for many home-living magazines. The staff were lovely and so accommodating and it was only a short walk into town if you wanted to explore some more. I cannot recommend this place enough.
Where we ate
Fattoria San Martino
As you can imagine, we enjoyed a delicious breakfast at our accommodation each morning (pictured). We aren't big grain eaters (just because we know it doesn't agree with us), so we had to make a few exceptions at breakfast time, but knowing the produce was so fresh and prepared with love, we made it through unscathed. For the strict paleo tribe, although they supply organic and biodynamic milk and yoghurt, there isn't much for you to enjoy at breakfast.
We also had a delicious 5 course vegetarian meal at Fattoria San Martino dining hall one evening during our stay. The owners pride themselves on organic produce and all of the vegetables are fresh from their kitchen garden; they supply award-winning dairy and cheeses from a local organic creamery; they bake their own breads, pasta and cakes by hand and to top it off they also supply organic wine and beer.
Tuesday's Farmer's Market
On a Tuesday, we ventured into Montepulciano's Farmer's Market to sample some of the best of the regions produce. We then used our market day supplies to 'picnic' outside each afternoon/evening and soak in the countryside. Getting amongst the locals and practicing our really bad Italian at the local farmer's market was a whole lot of fun and laughs. I highly recommend it.
Podere Il Casale
Dinner at Podere Il Casale was delicious. Again, all vegetables are fresh from their own gardens, as are the grains and meat is sourced organically and bio dynamically from all of their own animals. They also provide amazing honey, sheep and goat cheese again, all made on the premises. What I loved about this place (aside from the food) was how passionate the owner was about organics. She even used a local homeopathic vet if any of her animals ever became ill!
---
Positano and Praiano

Where we stayed
Hotel Margareita
We stayed at Hotel Margareita in Praiano, a small local-ish town about 8km south Positano. It was a great place to relax and for the most part, we were grateful for being out of the hustle and bustle of Positano. The only down side to staying outside of Positano, is the once the buses stop running regularly (around 8pm), getting back to Praiano can be difficult.
Where we ate – Positano
Casa e Bottega
This place was my saving grace. Why? They had Avocado on the menu! As you might have guessed by my reaction, Avocados aren't very popular in Italy, so you can only imagine my excitement after 3 long weeks without any! Cassa e Bottega is open for breakfast and lunch, serving up delicious smoothies and juices (all with organic ingredients), as well as a great selection of gluten free desserts. We went back twice.
La TagliataThis was a dining experience to remember. There is no menu, you are served whatever dish 'Mama' is cooking up in the kitchen that night. Initially we were a little concerned, thinking that there was going to be a whole lot of pasta involved, but we were pleasantly surprised – lots of vegetables and proteins for the paleo peeps. My only advice, wear your stretchy pants and start slow, this 5 course meal is going to fill you up. You will need to book in advance for this very popular experience.
Where we ate – Praiano
Che Bonta GastronomiaHave you heard of the term 'food envy'? It's a term we use to describe the envious feeling you get when you're sitting at a restaurant and watching a near-by patron receive their incredibly mouthwatering meals and when you look back to your plate, it's looking kind of drab. This is what happened when we attended Che Bonta Gastronomia, only everyone around us had a severe case of 'food envy' when they saw what had arrived on our table. We ordered the grilled seafood plate with 4 sides: the grilled vegetables, the tomato salad, the eggplant parmigiana (there is very little Parmesan on this dish) and the roasted potatoes. A nearby couple told us their Pizza was amazing but, our dishes really took first place. We ate like kings here for under 45 euro, another reason why it must be popular amongst locals. Again, this place isn't fancy, but it was the perfect spot for a delicious meal.
Highlights
The 'Path of Gods' hike from Praiano to Positano is still one of the most spectacular hikes I have done (and I have done quite a few!). It's a great work-out and the views are spectacular. Be sure to take some water, your back-pack and of course your camera. For those with dodgy knees, be aware that there are a few stairs to climb down once you reach Positano so I recommend that you take it slow and simply enjoy the ride.
---
Capri
The 'Isle of Capri' is situated just off the coast of Italy (about a 30 minute ferry ride from Positano). Because it is so close to the mainland, Capri is a VERY POPULAR day trip for most tourists staying in Positano or Sorrento and as such, it can get very busy during the day. Whilst a day-trip is a great option for those people with limited time, I recommend staying for a few nights if you can. Why? The real beauty of the island appears after dark, when all the day-trippers have vacated.

Where we stayed
Villa Marina Capri.
We stayed at the beautiful Villa Marina Capri. This hotel was stunning and the grounds were perfect for escaping the hustle and bustle of the Island day-trippers. The breakfast was delicious and had lots of real-food options for any traveler.
Where we ate
Lo Sfizio
I'm going to be honest, Capri can be flipping expensive. Whilst we love to spoil ourselves with a fancy dinner every now and then, we get far more enjoyment out of mixing it with the locals, you could say that we thrive on a cultural experience, so on the stunning Isle of Capri, we set out to find just that. This is how we found Lo Sfizio and why we went back twice. It's well and truly away from the tourist hot-spots, the patrons are locals, the menu is only in Italian (a lovely waiter and a quick Google translate always helps) and the food is DELICIOUS. The staff are lovely and for those of you who love cheesecake (not so Paleo, but close ;)), the real-deal ricotta cheesecake (with minimal sugar, *sigh* yes I asked) is out of this world. I highly recommend the roast chicken or the squid (best I had all trip) with the roast potatoes, tomato salad, eggplant parmigiana, zucchini and carrot sides.
La Fontelina
If you're after something a little more up-market, we enjoyed a delicious lunch at La Fontelina before retiring to the sun-beds (available for hire) for the afternoon. We had the fresh fish and vegetable sides – it was AMAZING. You can catch a small boat to La Fontelina from the main port however, I recommend the stunning walk to the look-out pictured above. There are some stairs to the bottom (and of course, back up), but it is worth it.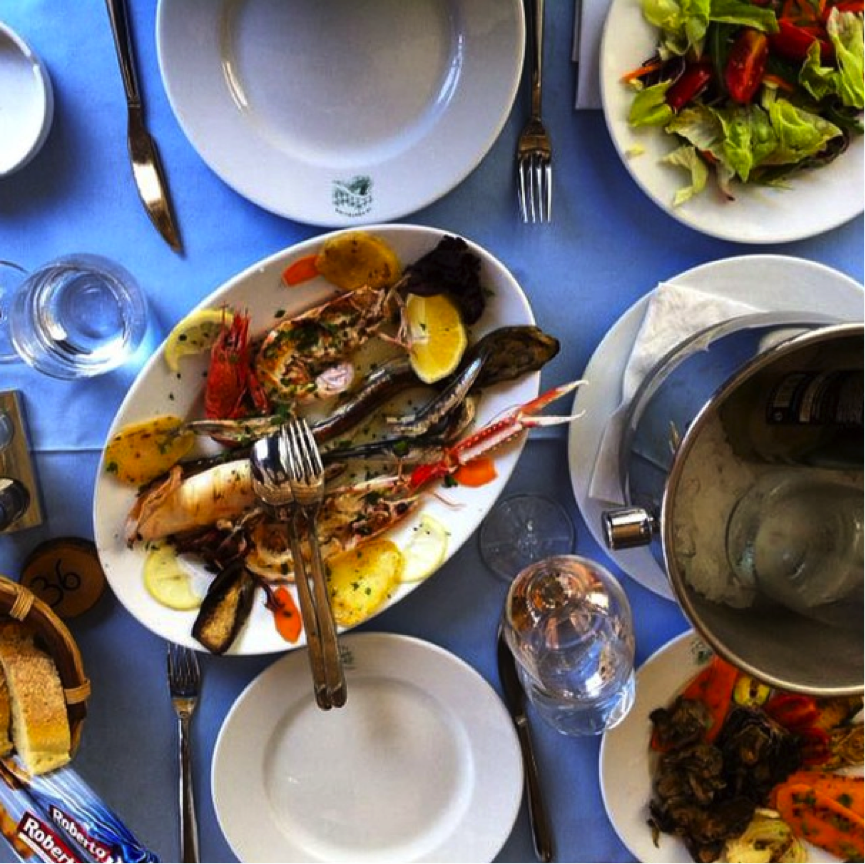 Highlights
My favourite part of my time in Capri was the afternoon where we hired a private boat and toured the island. We used Gianni's Boat Tour company and can highly recommend them. Our driver was lovely and shared all his local knowledge. We visited all the 'must see' sights of the island (Green Grotto, Coral Cave, White Grotto and Lover's Arch), swam in the crystal clear waters and if you book for around 4pm and arrive at the Blue Grotto (the main tourist attraction of the island), you can swim through the cave for free. One of the best parts about this tour was that because we had the boat all to ourselves, we enjoyed our very own picnic and bottle of organic rose on board (yep, you can take your own food and drink), it was magic.
There is also a chair-lift that you can ride to the top of Monte Solaro (over at Ana-Capri) for another stunning view of the island. As always, we opted to skip the chair-lift and hike to the top instead. It was a great walk and we would highly recommend it. If you don't feel like hiking back down, you can always catch the chair-lift back down for around 7 euros per person.
---
Rome
Where we stayed
Hotel Artemide
It was our second visit to Rome and as such, we decided to again stay close to Termini Station. From here transport is so easy, you are walking distance to almost everything and best of all, you are out of the hustle and bustle of the main tourist areas. We loved our stay at Hotel Artemide and would happily recommend this hotel to anyone traveling to Rome. Their service and amenities were amazing and the breakfast was the best we had had all trip – plenty of real food options for any traveler. They are also walking district to our favourite local area 'Monti'.
Where We Ate
Ginger
As much as I love Italian food, after 3 weeks of traveling Italy, I was ready for some green-juice and colourful salads. To satisfy this need, we found Ginger, the one stop shop for healthy smoothies, salads, soups and anything else your heart desires (including an aloe vera shot!). Most of the ingredients are organic and everything we ate was delicious.
Ciao Checca
For the best "burger" I have ever tasted, make sure you check out Ciao Checca (pronounced Ciao kekka). This small dine-in and take-away cafe specialises in SLOW FOOD. All ingredients are grass-fed and orgnanic. There aren't a lot of grain-free options here but vegetarians will definitely find something.
Via Urbana, Monti
If you are again, like us and want to mix it up with the locals, be sure to venture to the suburb of 'Monti'. This area is full of fantastic real-food cafes and restaurants and the crowd is young and hip. Our favourite street would have to be Via Urbana where we found these 3 hidden gems: we loved Urbana 47 for a good coffee and a delicious real-food dinner, they even had raw spaghetti noodles – the only 'spaghetti' I ate all trip! For green juicers and salad lovers, there is Aromaticus – the owner here is lovely. For all your vegan raw chocolate, coconut ice-cream, smoothies and dessert needs be sure to check out Grezzo.
Highlights
Being our second time to Rome, we skipped all the main tourist attractions (although I did re-visit the Colosseum, there is something about that structure that just draws me in) and ventured a little further into the local areas. We had an absolute ball and loved every minute.
That's it from me and our Italian adventure. Have I missed anything? Do you have any other suggestions? Have you been to Italy? Did you find it difficult to eat well and keep active?