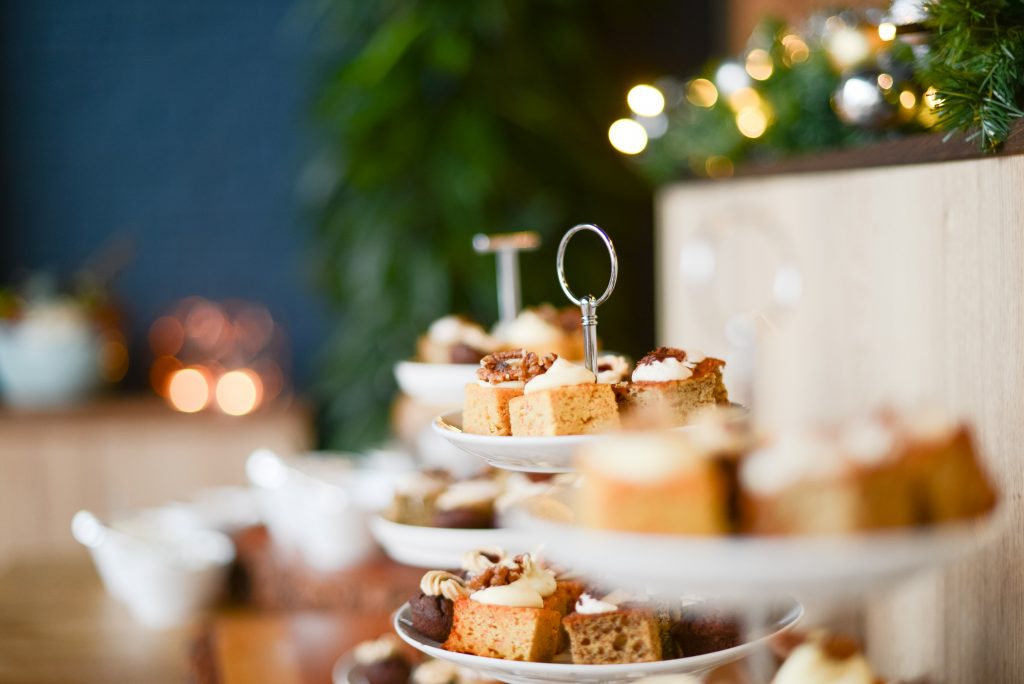 Originally this post was intended as a "How To Stop Overeating" with a Christmas focus, but as I began to write it, I realised these tips can be applied ALL year round. 
HOW TO STOP OVEREATING AKA HOW TO EAT MINDFULLY  
---
STAY HYDRATED

Most of us confuse hunger for thirst. Keeping hydrated will ensure you don't over-eat (or wake-up with a hangover). If you're after some inspiration, I've listed 10 ways to pimp your water (and conveniently make them a little more festive) here.
SIT DOWN TO EAT

Avoid nibbling on snacks prior to the main meal. Remember, once you start, you can't stop so the best tip is to avoid taking the first bite. If you know you will cave, make sure you have some healthy nibbles on stand-by. Vegetable sticks with home made guacamole? What about some festive cherries or berries instead of potato chips and chocolate?
FILL UP ON FIBRE

Load up on lots of delicious vegetables as well as quality proteins. These will help regulate your blood sugars and help you avoid the temptation to binge.
DON'T MULTITASK AT MEAL TIME

If you're in conversation, put down your cutlery and wait until you're done. Slowing down also helps you eat more mindfully. If you struggle to slow down, eat with your non-dominant hand – If your fork is most comfortable in your left hand, switch it to your right hand. This strategy can help you reduce the quantity of food you eat by up to 30%.
BRING AWARENESS TO YOUR BREATH

Take a deep breath before you eat, bring your attention back to your food. Ask yourself why are you eating? How much you are eating? Have made the right choices on your plate? Bring awareness back to your meal time.
ENSURE YOU'RE ADEQUATELY RESTED

Loss of sleep can skew your appetite and have you reaching for a bowl of sugar to help keep your energy levels up. Rest up.
ENJOY THE TASTE OF YOUR FOOD
Too often we reach for one thing after another and never really savour the taste. Sit back, relax and enjoy the experience. 
BRING YOUR OWN
If you're family isn't on the same page as you when it comes to nourishing their bodies with good food, make your own. Contribute your own dips (without the added preservatives), a colourful summer salad, or a delicious yet healthy dessert option that will satisfy your urge to indulge (see my recipe collection for more information). By having your own options on the table, you won't be tempted to stray too far from the day's intentions.
CHECK-IN WITH YOURSELF
Around 1 hr after your Christmas feast, ask yourself how you feel. Do you feel lethargic, exhausted, anxious or satisfied, energetic and happy? Your body will tell you right then and there whether or not you made the right choice.
GET MOVING
Go for a walk, play a game of Cricket, get active, don't sit around and drink more wine, nibble on more snacks, or go back for seconds post meal.
Most importantly, take a step back and be grateful for everything that you have. You'll be surprised just how powerful this moment can be 🙂
Have you implemented the above steps and noticed an improvement? Or have I missed your number 1 tip for eating mindfully? Please let me know in the comments below!