Yesterday I kicked off my recap of our Peruvian adventure with Lima. Today, I talk about our preparation for the Inca Trail, how we acclimatised, where we ate and the traditional Peruvian dishes you must try.
---
SACRED VALLEY
We arrived in CUSCO and got an airport transfer to our hotel in the Sacred Valley. We decided to spend a night here in order to acclimatise to the altitude (2900m vs 3400m above sea level at CUSCO). Upon arrival into CUSCO, I'm glad we did. Altitude hits you as soon as you step off the plane (it's not unbearable, but you can feel it).
Upon arrival into Sacred Valley, I immediately felt better. I also started sipping Coca Tea, you can read more about my experience here.
Where We Stayed
When booking our Sacred Valley accommodation I decided it was time to splurge a little (thanks Grandma for the Xmas gift!) and I'm so glad we did. We stayed at Tambo Del Inka and I can honestly say it's one of the most beautiful places we have ever stayed. Staff were incredible, grounds are stunning, rooms are immaculate, pool, Jacuzzi, gym and sauna included. The only problem was we had to pay for wifi ($11 a day), but it was a small price to pay for this piece of luxury.
 If you plan to visit Machu Pichu by train, this is the perfect place to do it from – only a short ride away.
Where We Ate
The hotel was so beautiful that we decided to stay within the grounds. They have their own organic vegetable garden on site and the restaurant was highly rated. We enjoyed the most beautiful dinner (organic menu, gluten free menu and other endless options) sitting by the fire listening to the most beautiful traditional Peruvian music being played live. Such an amazing experience.
Breakfast on site was just as delicious with a "Detox Station" and "Gluten Free station", pastries, eggs, omelets, pancakes, cold pressed juices – the works, even my favourite Peruvian dish – Sirloin steak with potatoes and tomatoes (CANNOT GET ENOUGH!).
We did venture out into the town, but it was small and not much to see. We were only here for a short time and were exhausted from travel so we took it easy. People are lovely though and we felt really safe.
---
CUSCO
---
This was one of my favourite cities throughout all of South America and when you arrive, you'll know why. There is an amazing energy about this place and the town centre itself is just beautiful. We spent a few days here before heading off on the Inca Trail again to acclimatise (it's so worth it).
Where We Stayed
Upon arrival, we stayed at Tierra Viva Cusco Saphi. It was cute, in a great location, staff were lovely and the bed was comfy. The breakfast was pretty basic, but we managed.
Upon returning to Cusco post trek (exhausted, but over the moon), we stayed at Palacio Del Inka (part of the perks of travelling low season, is amazing rates on hotels like these). This was part of the same chain as the incredible hotel we stayed in when visiting the Sacred Valley, so all of the above applied.
Where We Ate
Greens Organic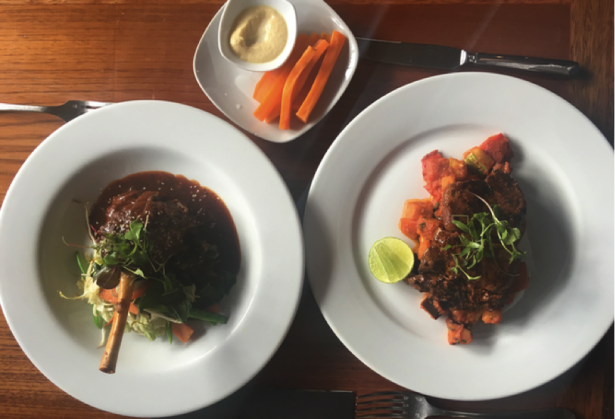 Easily my favorite place to eat in Cusco. There are lots of delicious menu items to choose from. Food is fresh and flavors are amazing. Gluten free is not a problem and dessert? Quinoa Brule. OH EM GEE. I'm still dreaming about it. This is where I tried Alpaca for the first time – highly recommend it!
La Cantina Vino Italiano
This little bar, is run by an Italian man who married a Peruvian woman and moved to Cusco a few years back. He is very passionate about Italy and stocks an excellent range of Italian wines, great pizza and cheeses! Word of warning, don't drink too much as you acclimatise to the altitude.
Mr. Soup
It gets cold in Cusco at night, really cold (and we were there during summer). So a big bowl of soup was the perfect way to warm us up. This place is small, but the soups are amazing (and cheap). Our incredible Inca Trail guide Luis told us that when you're at high altitudes its best to keep your dinners small, taking a load off your digestion – so these soups were perfect.
Cicciolina Restaurant
If you're thinking of sampling guinea pig, Cicciolina is the most perfect place to do it. Food was beautiful and staff are lovely. A little more upmarket than some of the other places I mentioned but definitely worth a visit.
Kusikuy
Tucked away off the main street, this restaurant comes highly recommended by the locals. There are a few steps to climb before you reach the front door, but it was totally worth it. Fish was fresh and cooked to perfection.
The Bar at Palacio Del Inka
I'm told that this is the place to try the Passionfruit Pisco Sour. We did, it was delish. The Peruvians are all about Pisco, so it's something you must try.
I also asked our incredible Inca Trail guide Luis, for his local recommendations, these are his favourites: 
Marcelo Batata Restaurant
La Divina Comedia Restaurant
Pachapapa Restaurant (For Traditional Food)
What To Do 
The Inca Trail – Hands down one of the most incredible experiences of our lives. I'll write a separate blog post on this one.
Choco Museo – We enjoyed a Chocolate Cooking Class at the Choco Museo. Here we learnt about Peruvian chocolate traditions and how to make chocolate from scratch. It was a lot of fun.
And that's about it (bar the Inca Trail experience – coming soon!). Have I missed your favourite? Did you enjoy Cusco as much as we did? Tell me all about it in the comments below.