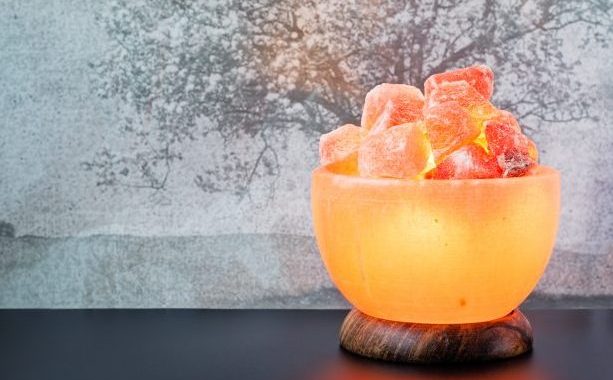 Yesterday on the blog, I spoke about the perceived benefits of a himalayan salt lamp. You can read about this here.
Whilst the science surrounding negative ions is pretty exciting, it's incredibly hard for me to measure the effects of a salt lamp on depression, asthma or energy levels; so I set out to test the lamp against a number of internet claims:
Did the Himalayan Salt Lamp…..
Cleanse and deodorise the air? 
My office gets incredibly stuffy, so I put the salt lamp to the test. Within 2 days of salt lamp use, the musty smell had completely disappeared. A girlfriend who was also a himalayan salt lamp skeptic, placed her lamp (which was given to her as a gift), into a freshly painted room; the result? No paint smell. She is now converted.
Improve sleep? 
We both fall asleep as soon as our heads hits the pillow, so this was also a little harder to measure, but I gave it a shot. Andrew, my husband LOVED sleeping with the salt lamp, absolutely loved it. Me, I hated it and I can normally sleep through anything. It was on my side of the bed, so that might have been the case, but it wasn't for me.Friends of mine whose children suffer from nightmares said the salt lamps were their saviours and ever since investing in a lamp, their children have been nightmare free however, the size and placement of the lamp is integral – not on the bedside table like I had.One thing I can attest to is that the natural red/pink glow of the lamp, it doesn't disrupt sleep hormones like fluorescent or blue lights of computers and phones do. They help us wind down before bed, so I always make sure it's nearby of an evening. It's the most perfect light for a late night bath.Weirdly, I also feels like it warms the temperature of the room. Go figure.
Increase energy levels?
Whilst my energy levels are pretty good (8/10 most days) improvements in energy were hard to detect however, I did notice a perceived increase in improved concentration levels when the lamp was on and nearby (especially during late night study sessions).
Reduce allergy and asthma symptoms?
My husband is an asthmatic, so after two weeks I moved the lamp from my study, into our bedroom to test this theory. The results are really quite difficult to determine given he barely notices his symptoms anymore, but we haven't had a relapse yet. Who knows?
Ease coughing?
This is a result of the air filtration. We don't cough, so again we couldn't measure this one.
FAQ 

Where did you source your salt lamp from? 
Unfortunately, there are a number of places out there who create poor quality lamps (some reports even suggest fakes). Ensure you purchase from a reputable seller.
How long do you leave it on for? 
I leave it on during the day and switch it off at night. Others leave them on for 24 hours. It's completely up to you. To help with children and nightmares, my friends would leave them on throughout the night.
My salt lamp is crying?
When there is high humidity, Lamps can cry (condensate) a little bit while turned on. If this happens, just pat your lamp dry with a dry cloth. I like to place my lamp on a dinner plate to save the table top. 

What about the environment? 
When I started to investigate sourcing salt lamps, I realised there existed a whole lot of controversy surrounding the extracting of salt from the Himalayas. Upon further research, this stirred up a number of emotions so I called my supplier. After chatting extensively, I was told that his products were sustainably sourced and fair trade however, the jury is out on the practice as a whole. The positives? It uses much less electricity than a normal lamp to light a room. I'll report back with more information when I've done some more research.
Do you have a salt lamp? What do you love about them?