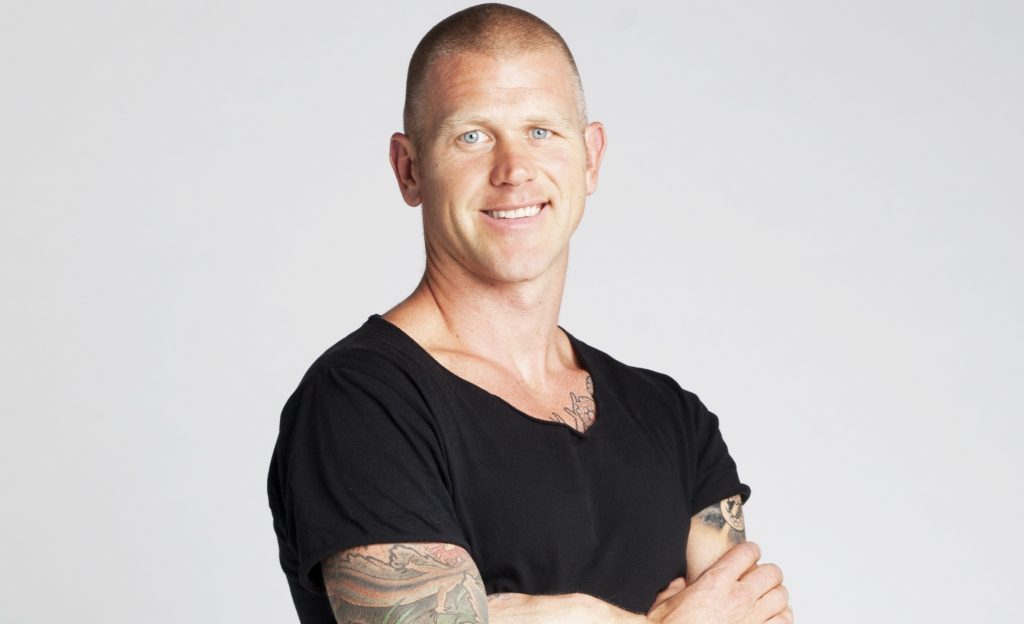 For those of you who haven't met Scott, Scott and Luke Hines formed the Paleo inspired cooking duo on the 2013 series of My Kitchen Rules. After wow-ing the judges with their healthy take on traditional dishes (and receiving perfect 10s), they progressed through to the semi-finals, proving to everyone out there, that healthy food can also taste delicious. Their approach to a whole life and real food has seen them celebrated across the country and since then, Scott and Luke (both qualified Personal Trainers) have released two (AMAZING) books full of primal training programs and delicious whole food recipe creations.
Recently, I had the absolute pleasure of chatting with Scott Gooding where we talked all things health and happiness. 
You are a huge advocate for a healthy, organic lifestyle, what inspired this way of living?
I've always been very active and played heaps of sport as a kid. I learnt from a young age the importance of good nutrition and exercise. I pursued my passion and studied exercise science at Uni and now I'm lucky enough to work in an industry I'm extremely passionate about. 
For many years out of the last decade I've struggled with a back injury which I'm happy to say has been fixed but it often left me unable to train for long periods. During that time I learnt the importance and value of good nutrition for healing and health. 
What inspired you to audition for MKR? Have you always had a passion for cooking? 

Luke and I had a vision (and still do) to collaborate and design an online platform for training programs and nutrition plans. At the time we simply thought that without a profile the success of an online business would never be attained. We decided we needed a platform to springboard from and MKR seemed an obvious choice with our love of food. 
Do you think a love for good food and a passion for cooking is essential for those who want to live a healthy lifestyle?

A love of good food and cooking isn't essential but I reckon it would certainly help to stay on track with your health. Not everyone shares the love of cooking but as long as you cherish your health, that's the most important aspect.  I am always intrigued though when people say they don't particularly like food or get excited about it. Its such an integral part of our existence I can't help feel that those people miss out on life's simple pleasures. 
Do you have any words of advice for those who haven't been bitten by the cooking bug?

Hmmm it's a tricky one. If it were me I'd search for inspiration. There'll be a chef or cook out there that inspires you. He/she may share your philosophy on food or simply create amazing recipes. I would You Tube them, buy their books and try and replicate their recipes at home.  
Another thing – invest in some good knives, nothing worse trying to cut with bad knives. Or get the whole family involved. My son has his own knife in the kitchen and helps me prep. 
Staying fit and healthy always seems much harder on the road, how do you stay fit and healthy whilst travelling?

I train everyday, but don't subscribe to training for too long. My philosophy is to train as hard as I can for as long as I can. .. which isn't that long the older I get ;). 
Even when I'm travelling I'll always find time to train and make it integral to my day. 
I'm a massive advocate for bodyweight training which is perfect when you're on the road as you don't need a gym or any equipment. 
I find our readers struggle with staying 'healthy' around friends/family/housemates that aren't necessarily on the same path. What advice would you offer them?

It's important to embark on your health path alone – ultimately you have to do it for yourself in the long run so the motivation has to come from within. Ensure you tick the two important boxes everyday which is to move your body and eat clean and then youll become the role model for your friends and family.  
We all know preparation is key when it comes to healthy eating, but what about those times you are under the pump? What is your go-to meal when you are time poor?

It would have to be eggs!! Scrambled eggs with sautéed kale or silver beet with smoked salmon or liverwurst
With cookbooks and media appearances, your regular clients etc. How do you manage to achieve a work-life balance?

Im lucky that I don't have to work 9-5 but rather my hours are spread throughout the day. That being said the nature of my work is that I'm on social media/emails a lot so I need to actively pull myself off else I'm always "on" 
There have been periods in the past when I worked late nights and weekends which was great for the wallet but no good for the work-life balance. That is now too important to me to compromise. 
What's most important to you?

My health. .. Having experienced periods of not having complete health i understand why it's so important to me. I suffered from bouts of depression during times of ill health and life could be hard. Once you have your health you can achieve anything. 
Aside from your DELICIOUS cookbooks, do you have any recommendations for those looking to understand more about their health and wellness?

'On the Origin of the Species' by Charles Darwin and 'Primal body, Primal Mind' by Nora Gedgaudas. 
What's on the horizon? Can we expect any more cookbooks? (Pleading puppy dog eyes).

Yes, I'm currently writing my 3rd and 4th book with my mate Luke which will be out later this year. We are also filming a new show on channel 7 called 'Live Well' which is a health and lifestyle show.
We've also been asked to be the ambassadors for Santa Monica in LA which is so exciting!
Last but not least, what are your top 3 tips for maintaining a healthy lifestyle?

 Move your body everyday – work up a sweat and a few grunts. 

Eliminate foods that disagree with our system. I strive for optimal health and to do that I clear my diet of grains, dairy, legumes and sugar. 

With a busy lifestyle and the prevalence of social media its often hard to switch off. I try to disengage and indulge in things that make me happy – eating out, training or catching up with mates.
I can't thank Scott enough for taking the time out of his busy schedule to chat with us. He is such a great guy! I look forward to seeing what else the boys have in store for us over the coming months. For more information on Scott and his Clean Living ways, you can find him here: 
Instagram: http://instagram.com/scottyfit
Twitter: https://twitter.com/ScottyFit
Facebook: https://www.facebook.com/ScottGoodingFitness
Scott Gooding PT: http://www.scottygooding.com.au/
CLEAN LIVING COOKBOOK… Sneak Peek: