Whilst Whistler is a popular tourist destination (and hence, deserving of its own "Healthy Eats" post yesterday), I simply could't stop there. As we moved throughout the Canadian Rockies and Vancouver, we came across some great healthy food options as well as some incredibly beautiful outdoor activities that will help you keep those holiday kilograms at bay. If you are considering heading this way, these places are not to be missed!
HEADING TO BANFF, JASPER OR LAKE LOUISE?
If you are heading to Banff, Jasper or Lake Louise, I'm almost certain that you'll have to fly into Calgary where you will hire a car and drive out to your destination. This is a great opportunity to stock up on organic goodness before you leave the city.
Food is limited and oh so expensive within the national park, so my best advice is to plan ahead. I highly recommend stopping off at one of the following stores in Calgary for supplies. I suggest fresh fruit, nuts, snacks and if you're lucky to have a kitchenette within your accommodation, take breakfast supplies (you'll save yourself a fortune).
NOURISH BISTRO – BANFF
We stopped in Banff on the way through to Lake Louise looking for lunch. It was here we found Nourish Bistro. If you love vegetables, you will love this place. So many options to choose from (with lots of bistro favourites) but I couldn't go past the soup and salad combo – perfection. Make sure you order one of their smoothies – Andrew still talks about how delicious it was. http://www.nourishbistro.com
ACCOMMODATION: We stayed at the Paradise Lodge and Bungalows and loved it. I highly recommend the cabins – they are cute, warm and functional (with a kitchenette). They also contain a luxurious bath (where you can kick back and watch the snow fall outside) and your very own own personal wood fire.
POST HOTEL – LAKE LOUISE
We never really put a foot wrong in Lake Louise, (it's small and there isn't much too choose from end of season) but the Post Hotel is definitely worth a mention. The Condé Nast Traveler's Gold List awarded the Post Hotel & Spa "Best Food in the Americas" and we agree – it's up there. Their service was second to none, their wine list is endless and their food – a hearty authentic and truly AMAZING Canadian experience.
ACTIVITIES
Hike, hike and hike. Lake Louise was beautiful and has some gorgeous hikes to the "Plain of Six Glaciers" and "Lake Agnes Teahouse". There is not much food up in the mountains so if you are hungry, be sure to take your own.
Another great hike was the hike to Peyto Lake (pictured).
To learn more about the countryside and the incredible wildlife that call the rocky mountains home, I highly recommend contacting the team at "Great Divide Nature Interpretation". Initially I was a little disappointed that we had paid good money to do a hike with a tour guide given there was so many marked trails you could have completed at your own pace however, I am so glad we did. Joel (our guide) was fantastic, you won't believe the things you will learn not to mention the heights he will take you. One of my favourite experiences abroad to date. I can't recommend the husband and wife team at the 'Great Divide' enough. To read more about my hike with Joel and the group, click here.
VANCOUVER
Vancouver is a beautiful city and we really enjoyed our time here however, the one thing the city failed to deliver on was a healthy breakfast. There are a few breakfast cafes scattered around the city however we only managed to find one that served up a few greens with breakfast (which was all I crave in the morning). If you are a healthy breakfast fan like myself, my best advice is to stay in a hotel room/apartment with a small kitchen to get you through.
We did come across some great finds however, these are listed below:
CAFÉ MEDINA
http://www.medinacafe.com.
This restaurant isn't organic but it is the closest thing we could find to a healthy breakfast. Unlike most restaurants in town, they serve us some delicious greens with their breakfast – thumbs up from me! Be sure to get in early, as there can be a wait for a table.
THE JUICE TRUCK
http://thejuicetruck.ca
These guys offer cold pressed organic fruit and vegetable juices from the back of "The Juice Truck". Perfect way to grab your greens on the run. Check out their website for their location.
WHOLEFOODS
http://www.wholefoodsmarket.com
We stopped here for breakfast a few times. Wholefoods is a "healthy" whole foods store (go figure!) that stocks a range of approximately 50% organic foods including salads; hot meal options, juices and smoothies as well as other grocery items. This is also a great place to get some snacks.
If you are happy to have 'lunch' for breakfast, this is a great place to get some vegetables into your first meal (I would get free-range turkey and roasted vegetables or maybe some salad). They also do hot porridge and fruit salads.
REVOLVER
http://revolvercoffee.ca
If you love coffee, you will love this place, it was quite easily the best coffee we had throughout the entire 4 week trip (Andrew, the coffee connoisseur agrees).
These guys are all about coffee, so there isn't much to eat here. I highly recommend you grab something before you arrive, but definitely check them out.
They also have almond milk on hand.
For lunch and dinner though, these were our favourites: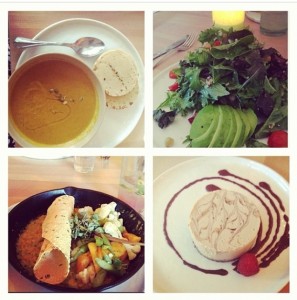 HEIRLOOM VEGETARIAN
https://www.heirloomveg.ca/Contemporary dining experience for vegetarian and vegetable lovers. Really beautiful setting and inventive menu! Staff are also lovely and the serving sizes are very generous – you won't leave hungry! Just what we needed and would definitely return if we were visiting Vancouver again.
THE FLYING PIG (My Fave)
http://theflyingpigvan.com
This was a great place for dinner in Vancouver, such a great atmosphere. They offer all local produce, (some organic and conventional – ask your waiter to help you navigate the menu). The seafood was wild caught and some of the meat was grass-fed. It is also a great place for an organic wine.
We didn't get to try this one, but from what I have heard it is worth a look in:
ACORN
http://www.theacornrestaurant.ca
Beautiful setting. Vegetarian, Vegan, Raw, Gluten Free options abound. Bar open until 2am with special bar menu starting at 10pm every night. The menu is not organic.
ACTIVITIES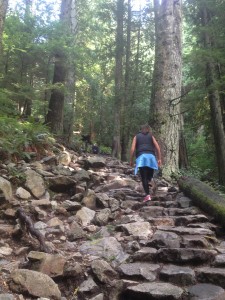 Hire a bike or pop on your running shoes and head for a ride/run or even walk around Stanley Park – it was stunningly beautiful. Picnic watching the sunset in summer would be very romantic and a great way to unwind after time in the city.
Strap on your barefoot shoes and head to Grouse Mountain for the Grouse Mountain Grind (pictured). This is a 1 hour, steep (the climb doesn't flat line once), 2,834 step climb to the top. Views at the top are definitely worth the climb. Take plenty of water!! NOTE: If you plan to do the climb to the top of the mountain, you don't need to buy your lift tickets down the mountain (you aren't allowed to take the steps back) until you get to the top – this will save you time in the lines at the entrance.
If you happen to fall onto a night where the ice hockey is on, I highly recommend going! It was lots of fun!