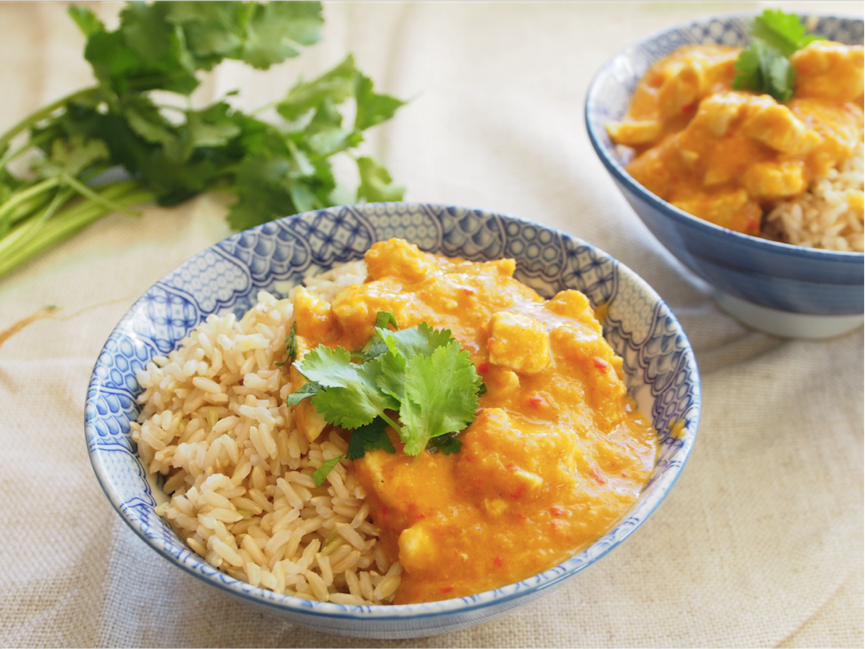 Mango and Chicken Curry is one of my all time favourite dishes however, I quickly grew tired of having to add store bought Mango chutney's that contained additives, flavours, sugars and preservatives. To help overcome this problem, I created my own Paleo Mango & Chicken Curry Recipe using the REAL DEAL and have never looked back. This dish pairs perfectly a bowl of rice, or if you're sticking to the grain-free side of things, a bowl of cauliflower rice will hit the spot.
Print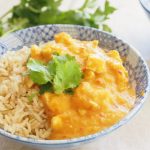 MANGO CHICKEN CURRY
---
2 tablespoons

coconut oil

1

large brown onion (chopped)

1

red capsicum (chopped)

2

garlic cloves (crushed (reduce if FODMAPS))

2 tablespoons

of crushed ginger

2 tablespoons

of yellow curry powder

1/2 teaspoon

ground cumin

2 tablespoons

Apple cider vinegar

400 grams

of full fat coconut milk

2

mangoes (peeled and diced)

2

free-range/organic chicken breasts (diced)
Salt and pepper
Coriander for garnish
---
Instructions
Heat the coconut oil in a large pan over medium heat. Add onion and capsicum and sauté until soft. This should take about 5 minutes. Add the garlic and ginger and cook for another minute before adding the curry powder and cumin, stir to combine. If anything begins to stick too much to the bottom of the pan, add a little more oil and reduce heat.
Add the apple cider vinegar, coconut milk, and a single chopped mango to the pan. Increase the heat and bring to a boil before reducing the heat to a low simmer for about 15 minutes, stirring occasionally. Remove pan from heat. Scoop the sauce into a food processor; purée the sauce until smooth.
Return the sauce to the pan and add chicken pieces. Return to a low simmer. Cover and let simmer for 8-10 minutes, or until chicken is cooked through. Simmer for another minute or two, uncovered.
Season with Celtic sea salt and pepper. Garnish with coriander and serve on a bed of brown or cauliflower rice.