A guest post by physiotherapist, Liz Oppy.  
"When all your muscles are properly developed, you will, as a matter of course, perform your work with minimum effort and maximum pleasure." – Joseph Pilates
The biggest challenge for me as a physiotherapist is to demonstrate to my clients that you do not need to 'feel the burn' or sweat up a storm to work hard. I often have male clients look at me like "Are you serious? I have got better things to do than spend half an hour breathing". It's not until they fail their first exercise, that they start to listen. Doing well in Pilates is like building a successful tower. Lay solid foundations by demonstrating you understand all of the basics in order to watch a strong, beautiful tower unfold.
Founder, Joseph Pilates' philosophy, teaches us the benefits of developing LONG, LEAN muscles and the importance of beautiful posture.
How do we do this?
Learn how to activate your pelvic floor muscles properly. You can learn more about this here.
Master the art of engaging your core muscles with movement…PILATES!
Incorporate this in to day-to-day activities to reduce your aches and pains and improve your posture.
I can't stress to you enough how important it is to participate in a Pilates class that is run by a professional. Even if it is just for a few sessions, the education you will receive on correct technique, appropriate exercises and suitable progressions is so beneficial. From here, you may wish to continue in a group setting with your buddies or opt for some equipment options to do at home.
PILATES OPTIONS
When it comes to practicing Pilates, the tools in which you can use to help improve your stability and muscle function are endless. I have listed a few of my personal favourites below.
FITBALL 
What is it? An inflatable ball that provides an unstable surface to challenge your deep abdominals and pelvic floor.
Whilst I do not suggest you use it as a desk chair, I do think they are a great apparatus to practice Pilates exercises. My one and only favourite DVD that I recommend to patients is Lisa Westlake "Fitball and Pilates unite!' – Safe, effective and caters for all levels.
FOAM ROLLER
This is easily my favourite piece of Pilates equipment. Perfect to stretch and relieve your spine from hours at a desk, eases sore muscles through myofascial stretching/releasing, not to mention there are endless Pilates exercises you can do in the comfort of your own home (more on this next time).
Theraband
This is a handy bit of equipment that you can take travelling with you as it rolls up and weighs nothing. It can be used for hip strengthening, postural retraining, pelvic floor strengthening as well as general resistance training…perfect!
Reformer Beds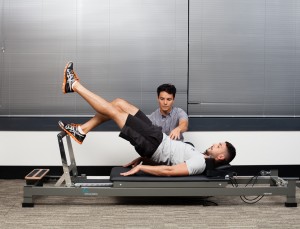 These are specialised pieces of Pilates equipment that really needs supervision from a qualified Pilates instructor. The reformer provides fantastic feedback for you to ensure you are doing the exercise properly. Furthermore, it provides resistance to the body and allows for closed chain exercises – much more effective to load the bones and strengthen the muscles than open chain activities.
Clinical Pilates
If you have a specific injury or chronic pain condition, clinical Pilates with a physiotherapist could be the best investment you make. Functional retraining allows you to strengthen the affected muscle/joint in isolation and progress the exercises safely at your own pace until you have returned to your ultimate goal. Individual clinical Pilates can cater for ANY level of experience and conditions.
Whether you are doing it once a week to maintain or twice a week to improve, Pilates is soothing for the body, mind and soul. A gentle form of exercise that keeps you active and leaves you feeling invigorated. After all, as Joseph Pilates says:
"A man is as young as his spinal column."
I look forward to sharing my secret foam roller home Pilates program with you next time.
Liz X
– "Life is not about finding yourself… Life is about creating yourself!" X