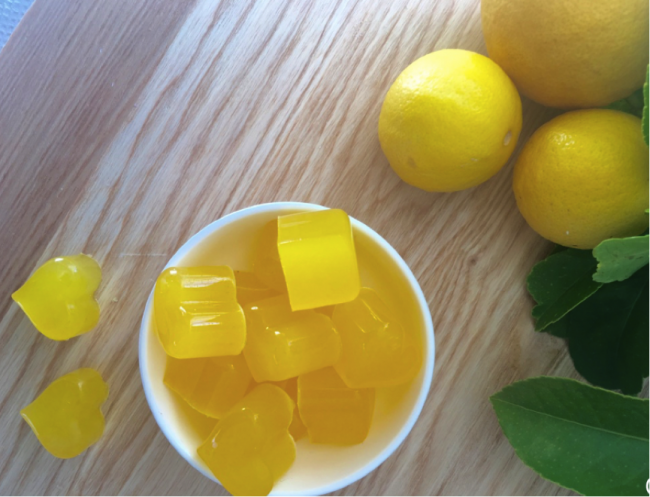 ---
Yesterday I wrote a post discussing the health benefits of gelatin (you can read all about this here). Today, I share one of my favourite gelatin recipes – Citrus Gummies! These delicious gummy chews are made from real fruit juice with absolutely zero added sweetener.
Print
1

lemon (juiced)

2

oranges (juiced)

4 tbsp

. gelatin
---
Instructions
Combine lemon and orange juice until it forms 1 cup of combined liquid.
Place a small saucepan over medium heat, pour in liquid. Add gelatin and continue to stir until mixture starts to thicken approximately 2-3 minutes
Remove from stove, transfer to moulds or a ceramic baking dish, refrigerate (2-3hrs) or freeze (10 mins) until set.
If you use baking dish, cut into bite sized pieces before serving.
Because these are rich in amino acids, limit your consumption to 3 per day, increasing slowly over-time, if ordered by your natural health practitioner.
Notes
As these gummies have a very similar consistency to "jelly" without the additives, preservatives and what not, warm temperatures will cause them to melt. Keep refrigerated for best consistency.
If you don't know where to source gelatin, one of the brands I recommend is Changing Habits Gelatin Powder (~$9.40/100gram – incl. postage). It's Australian owned, organic, chemical free, preservative free and ethically sourced porcine gelatin. Another brand I recommend is Nutra Organics Gelatin, it's also Australian owned however made with from beef.