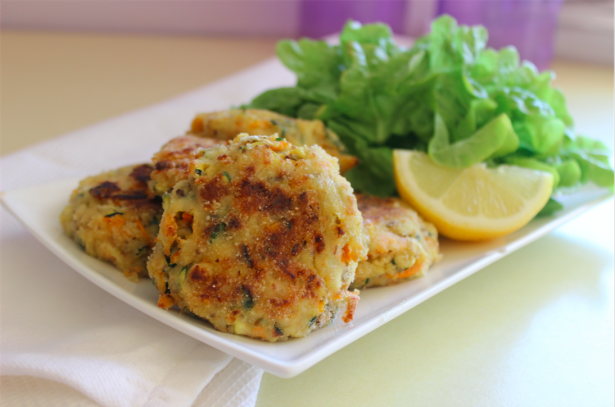 Just before Zucchini's go out of season, we thought we would sneak this one in: Paleo, Gluten Free, Grain Free and Dairy Free Zucchini and Carrot Patties! More delicious seasonal recipes just like this one can be found here: 'An Apple a Day' Seasonal Recipe Collections.
Can't have eggs? I've listed my favourite real-food substitutes here: Real Food Egg Replacements.
Print
Zucchini and Carrot Patties
---
2

large zucchinis (grated)

3

large carrots

1

large brown onion (diced)

1

garlic clove (crushed)

1/4 cup

flat leaf parsley ((optional))

3 tbsp

dulse flakes
Celtic sea salt to taste

1

pasture fed egg (lightly beaten)

2 tbsp

coconut flour

2 cups

rice crumbs

1 tbsp

coconut oil for frying
---
Instructions
Preheat your oven to 200°C. Line a baking tray with baking paper.
In a large bowl, combine the grated zucchini and carrots and mix well.
Transfer the mixture to a clean linen tea towel and begin to wring out all excess water. Repeat this process three times (with a new tea towel each time) to ensure all water is drained from the mix. Transfer to a dry bowl.
Add onion, garlic, parsley (if you are using it), dulse flakes and Celtic sea salt to the bowl. Mix well to combine.
Whisk the egg in a separate bowl with a fork. Transfer to the main bowl with the coconut flour and toss the mixture until the eggs and flour are well incorporated. If the batter still looks very wet, sprinkle in more flour until you reach a thicker consistency, keep in mind you want these to stick together to form patties in the end.
Take 1/4 cup of mixture at a time and shape into a small patty. Roll in the rice crumbs and set aside. Repeat with the remaining mixture.
Heat about 1 tablespoon of oil in a large, heavy-bottomed pan over medium-high heat. Cook the patties for about 2 minutes on each side, until golden brow. Transfer to a prepared tray and bake for about 15 minutes, or until cooked through.
These patties can be served with your favourite salad or free-range organic eggs at breakfast time. Even pop them in your handbag for a snack on the go. Delicious!
Notes
I like to pair these patties with a delicious salad or pre-prepare them (freeze them raw and defrost before cooking) and enjoy them on their own as a healthy snack option.
Looking to find out more information about the ingredients I have selected? All you have to do is just follow these links: