As many of you know, Andrew and I recently returned from our Canada and US adventure. As we travelled around I posted a number of photos on Instagram (find me at @anappleaday_nutrition), explaining where I was and what I was up to (for those of you that follow me, you will know I posted some of my healthy foodie finds also!). As I continued to do this, many Instagram followers were asking for more information. It was then that I realised that Andrew and I were amongst a very large group of Australians travelling to these parts of the world and I quickly promised everyone that I would create a blog post (or 3), to fill them in on our hidden gems! Here we go!
To kick things off I thought Whistler, or "Little Australia" as the Canadians call it, was a great place to start. Feel free to add any other finds we missed along the way, sharing is caring after all!
ACCOMMODATION
We stayed at Nita Lake Lodge in Whistler and I can quite honestly say this was easily the best place we stayed all trip – I would happily recommend it in a heartbeat. Rooms were gorgeous and incredibly spacious, staff were very knowledgeable and friendly and the food onsite was delicious.
Nita Lake Lodge is a short drive from the main village but the hotel operates a free shuttle bus in and out of town from the tourist information centre. It was perfect.
HEALTHY EATS
NITA LAKE LODGE – AURA & FIX CAFÉ
Staying at Nita Lake Lodge made eating at their onsite restaurant incredibly tempting each morning.
Aura (the main restaurant onsite) does an incredible breakfast that strives to source all of its produce locally and organically.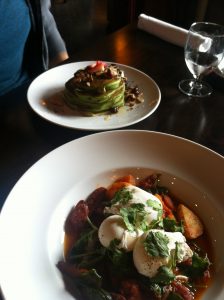 Andrew's favorite was the Gluten Free Green Pancakes: greens and kale infused pancakes topped with berry sauce, acai powder, strawberry agave syrup, toasted almonds & golden berries.
My favourite was the 'Spiced Tomato and Sausage Ragout': Lamb sausage cooked in a hearty stew of potatoes, tomato, spinach, chickpeas & coriander, topped with two soft free-range poached eggs. I had it without the lamb and it was delicious.
They have almond milk on hand for anyone interested in a hot drink without the dairy or soy.
Fix Café also located on the grounds of Nita Lake Lodge was a great spot for a small meal or snack. Each day they had a new variety of soups and salads available for purchase. They also did freshly squeezed juices and smoothies. Again, they also had almond milk on hand for anyone interested. Although we don't eat many grains at all, they also had a number of freshly made gluten-free bakery items available. Be quick – they sell out fast!
Both Aura and the Fix Café at Nita Lake Lodge is open to the public. If you aren't a guest, feel free to pop into Fix or make a reservation at Aura whilst in Whistler.
ELEMENTS URBAN TAPAS
We eventually forced ourselves to step away from the food at Nita Lake Lodge and found this little gem online. Elements Urban Tapas is fast becoming a very popular breakfast spot in the Whistler village.
The "healthy hash" (hash is simply a mix of meat or veg cooked with onions in a fry pan) was easily our favourite and included a delicious mix of local vegetables like kale, pumpkin, capsicum, herbs and tomatoes, served with two organic free-range eggs. It was DELCIOUS! My only advice is to ask them to serve the spicy sauce on the side – as you can see it isn't that healthy looking and there is a lot of it!  http://www.elementswhistler.com
PUREBREAD CANADA  
The only place for coffee in Whistler. They also have a range of cakes and bakery items to tempt you.
SUSHI
We don't eat a lot of sushi given it contains rice, but when in Canada I just couldn't help having a little wild caught salmon here and there. The sushi at the tourist information center was the best we found. Fresh and delicious BUT they didn't have a brown rice option. Word on the street is that Samurai Sushi does a brown rice but you will need to sift through the menu for some healthier options.
CREEKBREAD
Unfortunately we missed out on dining with at Creekbread so if anyone has been, be sure to let me know. This is a family/casual restaurant and can get busy early – best to book ahead.
All menu items are prepared with organic ingredients, free-range chicken and nitrate free meats. They specialize in wood-fired pizza's (with in-house gluten free options available) and salads. http://www.creekbread.com
UPDATE: Laura has kindly left some comments regarding Creekbread at the bottom of this post. Whilst she wasn't wrapped with the quality of the pizza, she said the staff were very helpful. Check out her posts in the comments section for more information.
RIM ROCK CAFÉ
This restaurant is a must do for dinner. By far some of the best seafood I have had in a long time! I didn't even get my camera out to take a photo, it was too good to interrupt!
Our waiter and his passion and knowledge of the menu blew us away. We explained we wanted only wild-caught fish and he mentioned there was only one variety on the menu that was farmed. He also mentioned that all vegetables are sourced locally and they make an effort to use as much organic produce as possible.
We got a low-season special but if you are travelling in peak season, it seems to be on the expensive side – but TOTALLY worth it. Please make sure you book well in advance for this place to avoid missing out. http://rimrockcafe.com
WHISTLER FARMERS MARKET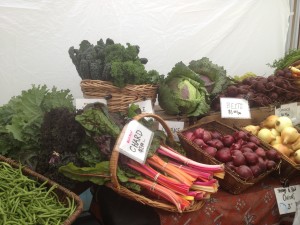 This is a great way to meet the locals and tap their local knowledge on where to eat and things to do whilst grabbing some delicious breakfast!
At the Whistler's Farmer's Market Andrew enjoyed a delicious Japanese Pancake (Okonomiyaki) prepared right in front of him. He also picked up an aeropressed coffee from a local stall holder (coffee lovers will know what I mean by aeropres. We also were fortunate enough to sample some delicious organic chocolate zucchini bread (recipe included in the upcoming cookbook!). We also grabbed some organic supplies to snack on throughout the rest of our stay.
The Whistler Farmer's markets are now closed until Jan 2014.
For opening dates and times check out their website: http://www.whistlerfarmersmarket.org
SUPERMARKET
For any other organic supplies or snacks, I went to the local supermarket. They stock a considerable range of organic fresh produce, organic dark chocolate and organic herbal teas to take back to the hotel room or pop into your day pack whilst you are out on your Whistler adventure!
THINGS TO DO
RELAX & UNWIND AT SCANDINAVE SPA 
One of the most amazing spa experiences I have ever had. If you want to wind down, this is the place to do it.
Hot Spas, Steam Rooms, the most BEAUTIFUL sauna and of course a cold plunge pool to assist in muscle recovery and circulation, all located in the serenity of the mountains. If you want a relaxing afternoon this is a great place to start. If you want to splurge a litre, the massage was amazing and I highly recommend it.
http://www.scandinave.com/en/whistler/

ACTIVE LIVING 
Aside from the main attractions to Whistler (Skiing in Winter and Hiking in Summer), there is SO much to see and do.
If you want to keep active whilst on your holiday, I can't recommend Nita Lake Lodge enough. They have a public gym onsite as well as a yoga center. In the summer they also have canoes and kayaks for hire to paddle around the lake.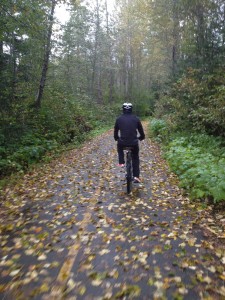 Whistler has some of the best bike trails that take you right into and around town. There is another reason we loved Nita Lake Lodge so much – they gave us free bikes!
The Quad Biking tour in Whistler was one of the most entertaining and exhilarating things we have done! Hold on tight! Zip lining was great fun also.
For more information on things to do, be sure to check out Tripadvisor.com.